Cathy's Sweet Creations leaving downtown Plainfield
Karen Sorensen | 10/2/2014, 9 p.m.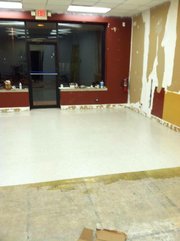 Cathy's Sweet Creations, a downtown Plainfield mainstay for more than a decade, is packing up shop for new digs that should be open by the end of the month, owner Cathy DeAvila said.
It will be hard to leave Lockport Street, DeAvila said, but the need for more space makes the move to a new location at 15515 S. Route 59 necessary.
"The bakery, at times, is very much overwhelmed," she said. "We had to discontinue parties, Girl Scout meetings and other things because we just didn't have the space."
The plan right now is to close Oct. 26 and 27 to accommodate the move and reopen in the new storefront on Oct. 28.
The new location is where Armand's Pizzeria had once been and provides 600 square feet more than the downtown store. It will allow DeAvila to have a separate party room in which she can again host parties and special events, such as her annual December gingerbread house decorating classes, without intruding on the bakery side of the business.
It will also be nice to have designated parking for customers rather than having patrons compete with other businesses for on-street spots, she said.
Remodeling is under way right now, and while they'll keep with the pink-and-black motif, the look will be a bit more hot pink than pastel and more contemporary since they no longer have to fit the style to a historic building, she said.
"It will be a little more modern, a little more open," DeAvila said. "You'll be able to see into the kitchen."
DeAvila said she's been thinking about making the move for a while, and it seemed like the right time to make a change rather than signing another three-year lease.
Initially, the plan had been to partner with Aunt Nina's Sweets N Treats on Division Street in Crest Hill, sharing the business' large space and taking advantage of the party room that already exists there, but the deal fell through when she learned there were problems with the landlord, she said.
This location, while smaller, may be more ideal because it's in closer proximity to downtown and some regular patrons will still be able to walk to the store, DeAvila said.
She doesn't want to lose her loyal customer base, many of whom she's provided cakes and baked goods for every major life event major event from weddings to baby showers to christenings, First Communions and graduations, she said.
"Everybody seems to be very positive when they hear about," DeAvila said.
Contact Karen Sorensen at Karen@TheTimesWeekly.com.