Corn-Topped Pork Pot Pies
10/12/2014, 10:41 a.m.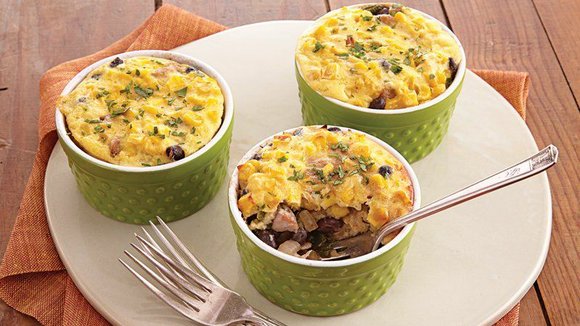 SERVINGS: 8
Ingredients
2 lb pork tenderloin, cut into 1-inch cubes
½ teaspoon salt
¼ cup all-purpose flour
1 tablespoon olive oil
1 large sweet onion, chopped (1 cup)
2 poblano chiles, seeded, diced
3 cloves garlic, finely chopped
1 teaspoon dried oregano leaves
½ teaspoon ground cumin
1 cup reduced-sodium chicken broth (from 32-oz carton)
1 can (15 oz) black beans, drained, rinsed
2 packages (10 oz each) frozen cream-style sweet corn, thawed
2 eggs, slightly beaten
½ cup Bisquick Heart Smart® mix
½ cup milk
Directions
Heat oven to 425°F. Spray 8 (8-oz) ramekins (individual baking dishes) with cooking spray.
Sprinkle pork with salt; coat with flour. In 12-inch nonstick skillet, heat oil over medium-high heat. Cook pork in oil, in batches, 5 minutes or until browned. Return all pork to skillet. Stir in onion, chiles, garlic, oregano and cumin. Cook 3 minutes. Gradually stir in broth, loosening particles from bottom of skillet. Cook 3 minutes, stirring constantly, until mixture begins to thicken. Heat to boiling; stir in beans. Remove from heat. Divide mixture among ramekins.

In medium bowl, stir corn, eggs, Bisquick mix and milk with wire whisk until combined. Spoon over pork mixture in each ramekin. Place ramekins on cookie sheet.

Bake 20 minutes or until golden. Garnish with cilantro.