Chipotle Sweet Potato Gratin
10/15/2014, 8:25 p.m.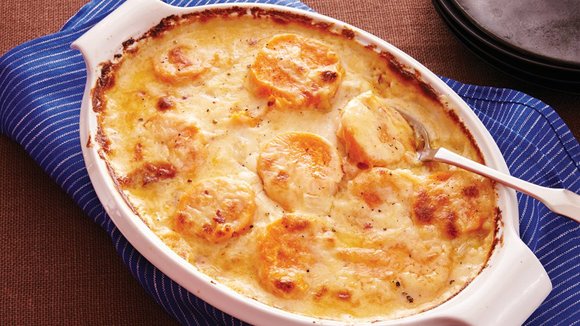 SERVINGS: 12
Ingredients
3 ½ lb sweet potatoes
¼ cup butter
¾ cup chopped onion
2 cloves garlic, finely chopped
¼ cup all-purpose flour
2 ½ cups half-and-half
1 ½ teaspoons salt
½ teaspoon ground cumin
¼ teaspoon pepper
3 cups shredded Monterey Jack cheese (12 oz)
1 to 2 tablespoons finely chopped chipotle chiles in adobo sauce (from 7-oz can)
DIRECTIONS:
In 4-quart Dutch oven, place sweet potatoes and just enough water to cover potatoes. Heat to boiling; reduce heat to medium-low. Cover; cook 20 minutes or until almost tender. Drain; cool slightly. Peel potatoes; cut crosswise into 1/2-inch slices.

Heat oven to 350°F. Spray 2-quart oval gratin dish or 3-quart casserole with cooking spray. Arrange potato slices overlapping in gratin dish.

In 3-quart saucepan, melt butter over medium heat. Cook onion and garlic in butter, stirring frequently, until tender. Sprinkle flour over onion mixture; cook 1 minute, stirring constantly. Gradually add half-and-half, stirring constantly until thickened and bubbly. Stir in salt, cumin and pepper. Add cheese and chipotle chiles; stir until cheese is melted. Pour cheese sauce over potatoes.

Bake uncovered 45 minutes or until lightly browned and bubbly. Let stand 15 minutes before serving.