Plainfield Masonic Lodge to get landmark designation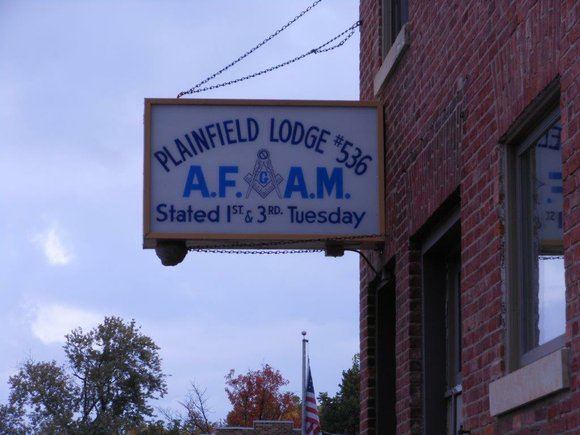 Plainfield officials are preparing to designate the Masonic Block Building as a historic landmark.
Built in 1892, and located at the corner of Lockport and Des Plaines streets, the Masonic Block occupies two lots along Plainfield's historic downtown.
Local historian Mike Bortel said that the building, completed in the Queen Anne style, is one of the few buildings in Plainfield that was designed by an area architect, John Edward Minott of Aurora.

The building is notable for its turret at the northwest corner with its "onion dome" feature that Minott used on many of his later designs according to historical documents.
The Masonic building rose from the ashes of a December 1891 fire that destroyed several buildings in the downtown. The building was constructed to be used as Masonic Lodge #536, a meeting location for the Free Masons of Plainfield who continue to hold their meetings there.
"They paid $9,000 to have the building built and they still own it," said Bortel, a member of Plainfield's Historic Preservation Committee.
With the Mason's meeting space on the second floor, the ground floor of the block has been home to several businesses over the years including a grocery store, general store, appliance store, and from 1931-1957, was partly occupied by a U. S. Post Office.
Plainfield's downtown district was named to the national register of historic places in September 2013. Bortel said that brochures available near the historic designation sign downtown have been popular with visitors taking the walking tour of the downtown. He noted that visits to the village's website via smart phone QR codes have been on the rise since being named to the register and speaking with shop owners, he said that many have noted an uptick in business.
The village also recently unveiled plans to restore a train trolley barn, 24216 Lockport St, to its original historical look and condition. The building has sat empty for the past several years near the intersection of Lockport and Main Street.
Originally built in the 1900s it has had additions made to the original structure in 1940s and 50s. Bortel said that the building still contains the original tracks inside the structure, the remains of a trolley line that ran between Plainfield, Joliet and the City of Aurora.
Contact me at brocknewstips@gmail.com or on Twitter @BrockAStein