Valley View creates new app for parents, community
10/16/2014, 7:54 a.m.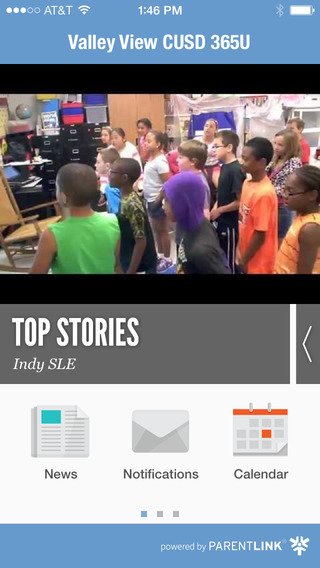 Valley View School District 365U provided this news release:
More information. More often. Right in the palm of your hand.
That's exactly what Valley View School District 365U parents and community members will find when they download the district's great new Mobile App for smart phones and tablets.
Available for download free in both the Apple iTunes Store and Google Play (simply search for "VVSD"), the VVSD Mobile App for Android devices as well as Apple iPhones and IPads. The rich user-friendly content, which can be customized by school and district, is powered by VVSD's long-time communication partner ParentLink.
"Achieving success for all of our students requires teamwork and a lot of communication," said VVSD Superintendent Dr. James Mitchem. "The launch of this mobile app will help promote the type of two-way conversations between parents, teachers, administrators and the community that are critical to our efforts to prepare our children for life after high school."
Among the features of VVSD's free mobile app:
*Instant notifications of school closings and emergencies with an option for immediate audio playback directly through the app.
*A VVSD "newsfeed" with all of the latest vvsd.org, School EdLine, Facebook, Twitter and YouTube posts customizable by individual school, multiple schools and the district...plus the capability of forwarding to a friend any newsfeed item via e-mail or text message
*Calendar information customizable by individual school, multiple schools and/or the district
*Personalized information on your child including daily class schedules, attendance, library book information, lunch money balance, weekly grades (for students in 6th thru 12th grade) and much more accessed through each family's personalized one-time log-in code. (Note parents should receive a letter with this log-in code soon. If you have not received it by Oct. 16, please contact your school's front office.) School fees may also be paid through the app.
*"Ask Us" and "Ask the Superintendent" features that will allow users to communicate with VVSD Administrators without utilizing cumbersome e-mail
*Directories for the VVSD Administration Center and all 22 schools with the ability to contact any person in the school district by e-mail with one simple click
*Daily breakfast and lunch menus for elementary, middle and high school students
*A sports feature that will allow users to follow their favorite middle school and high school sports teams
*Language customization with settings that will allow users to read a portion of the app in any one of 60 languages.
More information on the app is available by going to www.vvsd.org.