Volleyball courts, coffee bar part of proposed NL luxury complex
Michelle Mullins | 10/21/2014, 8:32 a.m.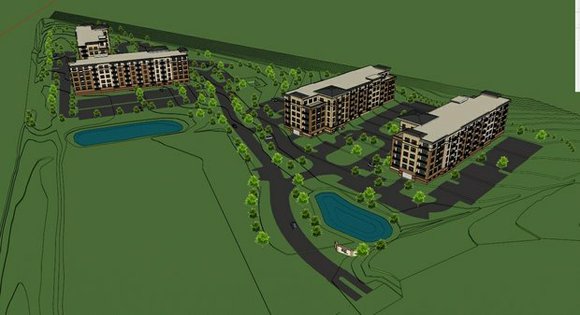 The New Lenox Village Board may vote as early as next week on plans for a high-end luxury apartment complex geared for commuters.
If approved, the Lincoln Station Apartments, consisting of four six-story buildings in a campus-like setting, would be built on about 16.23 acres of land at U.S. 30 and Prairie Street. A maximum of 312 apartment units would be built.
PPK Architects is designing the $53 million complex, which would also include such amenities as a jogging path, playground, and volleyball courts and a 4,000-square-foot clubhouse with a fitness center, coffee bar, movie screening room and a party room with billiards, said David Kennedy, principal with PPK Architects, who was one of the representatives presenting the plan to the village board on Monday.
An outdoor pool with cabanas would be next to the clubhouse, Kennedy said.
At least 65 percent of the units would be one bedroom and a maximum of 35 percent of the units would be two bedrooms, and rent would likely be about $1,610 per month for one bedroom units, according to the plans.
The apartment units would have 9-foot ceilings, hardwood floors, granite counters and high-end appliances and may turn into condominium units in the future, company representatives said.
The project is designed for commuters as a transit-orientated development, and is not being planned as Section 8 or affordable housing.
Village trustees wanted to ensure that the project meets all building, fire and safety codes and is built with quality construction materials before the board votes to approve the project.
Trustee David Smith said he thinks the project is a good idea, but wants it to meet New Lenox's high standards and is built to last.
"Quality is everything with us," Smith said.
If approved, the Lincoln Station Apartments would add $950,000 to the tax rolls yearly.