Lockport's Roxy Theater gains new life with new uses
Madhu Mayer | 10/22/2014, 11:18 a.m.
A partnership between the city of Lockport and a social service agency is showcasing the impact a historic theater can have on a community.
For nearly two decades, Trinity Services in New Lenox has been the owner and operator of the Roxy movie theater, a building on State and 10th streets that dates to1850. Local historians believe it was first used as a warehouse and had an adjacent horse stable. Historians recall a family operating the Roxy as a movie theater during the 1940s through the 1960s. It included a small stage, although the Roxy did not have live shows.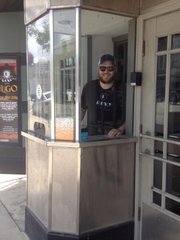 After the building became vacant in the 1960s, the theater was converted into a bar and grill. Once it purchased the structure in downtown Lockport 19 years ago, Trinity maintained its interior appearance and began offering programs for its developmentally disabled and mentally ill clients. On other days, local community groups use the facility, such as the Lockport Chamber of Commerce's upcoming annual autumn gala from 6 to 10 p.m. Saturday, Nov. 15, at the Roxy Theater.
Ray Carmody, director of administrative services, said the partnership between Trinity and Lockport started mainly because the suburb is one of the geographic areas the agency serves.
"This serves a great purpose to us, because it exposes them (Lockport) to our organization," said Carmody. "Art Dykstra, our CEO, had an idea and thought (the theater) would be a normalizing environment for our adults and a good opportunity for people to socialize. I must say that people do really like the theater."
Currently, Trinity holds activities for their clients once per week in the 2,500-square-foot theater, which can hold up to 150 people. Roxy also has an antique projector inside, which weighs 300 pounds and is five feet tall.
"We use it at least once per week as a recreation site for our clients," Carmody said. "It is almost like a recreation club for our people with mental illness. They can see movies inside, play cards or shoot pool."
Trinity supports adults and children with developmental disabilities, helps people recovering from mental illness and provides help to families who need individual or family counseling/therapy.
About five months ago, Carmody said Trinity did some interior work inside the historic theater, which included redoing the floors and painting.
"The city does use the property for different activities," he added. "We meet with them regularly to see what we will do next."
Renee Lang, who is the chairperson the Roxy Project Group, said her organization tries to determine what is the best utilization for the theater.
"This is a large space in downtown that is not being utilized to its full potential," said the Lockport resident. "We determined it is in the best interest of the city to use the theater as universal space."
During the summer, Lang said, the city showed movies on a 12-foot-by-10-foot projector screen borrowed from a local school at Roxy as part of its summer art series. Acting workshops were also offered inside the theater, which at one time, Lang recalls, also housed a nightclub.
"The situation is the theater right now fits Trinity's use," she said. "But for what we want to do, there needs to be extensive renovations." This means, according to Lang, fundraising dollars will be needed to bring the building up to code if more programs, besides just showing movies, will be provided to Lockport residents. Since Trinity is not willing to sell, Lang said private dollars would be needed to fund renovations.
Once funds are raised and work is completed, both Lang and Carmody believe the theater could be rented out by the public and also for a wedding venue.
"We want to retain the theater for use by our people," Carmody said. "But we always had a good relationship with the city. They are accepting to Trinity and the people it serves. We also want to restore the building and let people in the community enjoy what it has to offer."
Aside from the Lockport chamber's autumn gala in November, Lang said the theater will host a Halloween event from 2 to 10 p.m. Saturday, Oct. 25. The original "Friday the 13th" movie will be shown that evening at 7:30. Tickets cost $5 per person.