Bengals Lock Up Playoff Birth
10/23/2014, 8:13 a.m.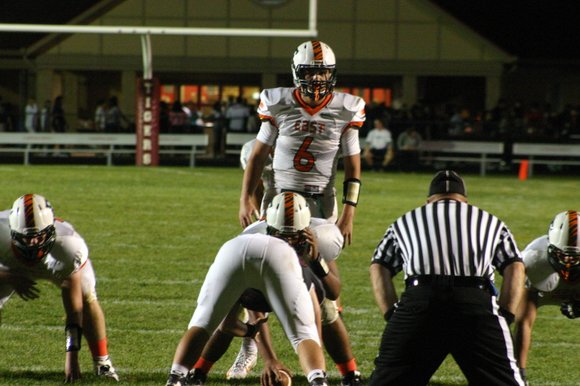 Plainfield East used a 21-0 run in the first half to coast to a 34-20 victory over SPC rival Romeoville and in the process, locked up their second straight post season birth reaching their sixth win of the season.
The Bengals (6-2, 4-2) used a bruising running attack led by their horse Jake Mayon who rushed for 199-yards and scored four times on the night in the win. East also got some production from quarterback Cole Kotopka who threw for 110 yards and two scores and was effective with the running game drawing the Spartan defense in to stop the run.
For Romeoville (2-6, 2-4) the loss had little meaning other than pride as they were already mathematically out of playoff contention but the Spartans didn't lay down and had some success moving the ball in the second quarter and remainder after making a few adjustments late in the first quarter.
The Achilles heel for Romeoville was the failure to control the defensive pressure brought by the Bengals who racked up five sacks on the night and had Romeoville quarterback Anthony Kitchen rushing his throws which resulted in over throws and a pair of interceptions on the night and generally frustrated the offensive scheme.
The Bengals wrap their regular season up this Friday when they invite Plainfield Central and search for a school record seventh win which has significance when playoff seeding commences this weekend. Romeoville on the other hand will be wrapping up their season this Friday night at Oswego East. Both games are scheduled for a 7pm kick off.