Apple-Jack Chicken Pizza with Caramelized Onions
10/26/2014, 10:55 a.m.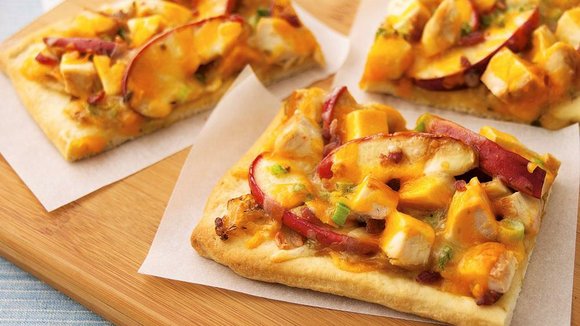 SERVINGS: 8
Ingredients
3 tablespoons butter
2 large sweet onions very thinly sliced
½ teaspoon dried thyme leaves
1/8 teaspoon salt
1/8 teaspoon pepper
1 can (13.8 oz) refrigerated classic pizza crust
1 unpeeled large Red Delicious apple, thinly sliced
½ teaspoon sugar
3 cups cubed cooked chicken breast
1/3 cup cooked real bacon bits (from 3-oz package)
2 medium green onions, sliced (2 tablespoons)
1 ½ cups shredded pepper Jack cheese (6 oz)
1 ½ cups shredded Cheddar cheese (6 oz)
DIRECTIONS:
In 12-inch skillet, melt 2 tablespoons of the butter over medium heat. Add sweet onions and thyme; cook about 20 minutes, stirring occasionally, until soft and golden. Stir in salt and pepper. Remove onions from skillet; set aside.

Heat oven to 425°F. Spray large cookie sheet with cooking spray. Unroll pizza crust dough on cookie sheet; press dough into 14x10-inch rectangle. Bake 7 to 11 minutes or until light golden brown. Reduce oven temperature to 375°F.

Meanwhile, in same skillet, melt remaining 1 tablespoon butter over medium heat. Add apple and 
Spread onion mixture over partially baked crust. Top evenly with chicken, apple mixture, bacon, green onions and cheeses.

Bake 10 to 20 minutes longer or until cheeses are melted and crust is golden brown.