Density, height concerns delay NL vote on apartments
Michelle Mullins | 10/28/2014, 9:06 a.m.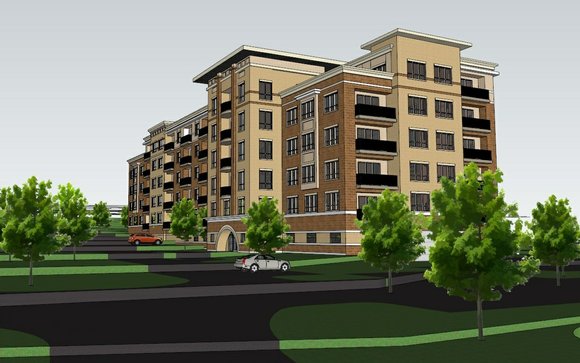 Citing concerns about traffic, density and building materials, New Lenox officials on Monday postponed a vote on a new apartment complex proposed for U.S. 30 and Prairie Street.
PPK Architects is designing the Lincoln Station Apartments – four six-story buildings with 312 apartments geared for commuters. The complex, which is being built in a campus-like setting, is being touted as high-end luxury living and comes with a clubhouse, pool, fitness area, movie-screening room, coffee bar, a jogging path and other amenities.
Rent would be about $1,610 per month for a one-bedroom unit that features granite counters, stainless steel appliances, hardwood floors and nine-foot ceilings. It is being marketed toward Metra commuters, young professionals, empty nesters and employees at the nearby Silver Cross Hospital.
Despite the amenities, New Lenox officials wanted to ensure that the buildings and the apartment units were constructed with the best materials with plenty of fire protections.
Trustee Ray Tuminello was concerned that the plans did not have any commercial aspect to them and were only residential. Since the project is being designed as a transit-orientated development, Tuminello said he believed some retail shops would be a good fit for the complex.
Trustee Annette Bowden agreed, saying that the apartments' residents would still need a car and leave the campus in order to buy necessities. She said she is concerned with the increased traffic that would come by adding more than 300 cars to the site.
Trustee Nancy Dye said she doesn't want the tall buildings to stick out and is concerned the density would create a bottleneck of traffic.
About 70 percent of the apartment units would have one bedroom with 30 percent containing two bedrooms.
Village officials plan to work with the architects to get some of the issues worked out before bringing the plan for a vote.
If approved, the Lincoln Station Apartments would add $950,000 to the tax rolls yearly.