2014 Lexus 460 F Sport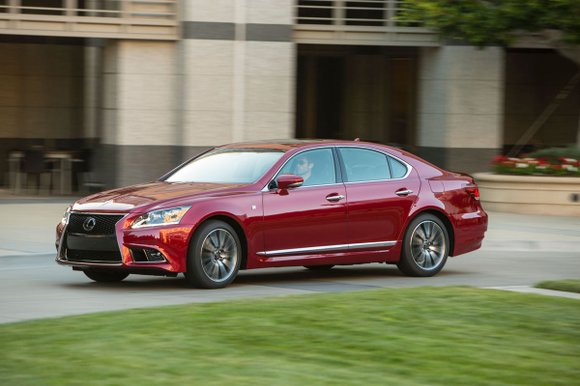 The dash was wide, gone was the center stack replaced by a 12.3-inch high resolution information screen that was controlled with a controller (read mouse) that was conveniently placed within the driver's grasp. We still think the control toggle could use a bit more torque. But even when touch is adjusted setting the control should only be done when sitting still and with some patience. It is an information system and it is a process to learn.
Still, the interior look was clean, we weren't looking at a blizzard of buttons and the car was sumptuous even though the sport motif featured aluminum trim patterned to look like to carbon fiber.
The 2014 Lexus LS 460 F Sport had an EPA rating of 16 mpg in the city, 24 mpg on the highway and 19 mpg combine. After six days, the mileage readout said we had averaged 20 mpg; that wasn't bad.
Our test vehicle was chock full of equipment in addition to the F Sport package. It had blind spot alert, adaptive LED head lights, a Mark Levinson 19-speaker audio system, a pre collision system, adaptive cruise control and a power open and close trunk.
The base price for our test car was $72,140. Add on options including the $8,350 F Sport Package as well as the freight charge and as tested this 2014 Lexus LS 460 F Sport's sticker was $88,080.
Frank S. Washington is editor of AboutThatCar.com.