Bow-and-arrow target shooting rules tightened in Shorewood
Brock A. Stein | 10/29/2014, 10:43 a.m.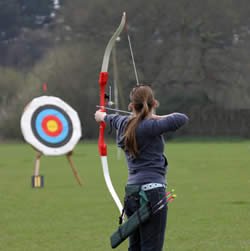 Shorewood officials have another arrow in their quiver for regulating archery in their parks.
Trustees passed new rules for the sport Tuesday night that add more restrictions on bow-and-arrow target shooting in village parks.
The need for a more detailed ordinance came after a junior Olympic team used Cene's Four Seasons Park for practice earlier this year.
The team, from Shorewood's Strictly Archery, 401 Earl Road, practiced for four nights using international training and safety protocol, Parks and Recreation Director Denise Schmidt said. The group deployed spotters, displayed signs and cordoned off the area with caution tape, she said.
"Their safety protocols were spectacular," Schmidt told trustees Tuesday night.
The practice drew the interest of other bow-and-arrow enthusiasts, who asked about using the parks for practice and spurred the tightening of village regulations at the behest of Police Chief Aaron Klima.
Under the new regulations, groups will be asked to apply for a permit, sign waivers of liability and provide proof of insurance. Archers participating in target events will also have to sign releases.
Schmidt said the new rules will still allow groups "to be sanctioned" to practice at Shorewood parks while discouraging amateur archers from doing so without notifying officials first.
The ordinance is specific to archery activities and is separate from rules governing firearms, which are always prohibited from village parks, Schmidt said.
In other business, the village considered a proposal to extend to April 2017 a sewer tap on fee discount so that it matches a sunset clause for its capital improvement fee. Without the extension, the current sewer tap on fee of $2,940 will increase to $3,834 in April 2015, Development Director Karen James said.

A water tap on fee that is set to expire in 2015 will remain in place as the village anticipates increased expenditures for water infrastructure improvements, including a new water tower, and a possible connection to Lake Michigan water supply. Trustees are expected to vote on the extension at their Nov. 11 meeting.
Trustees also will consider in November an amendment to a library impact fee that will increase annually by 2 percent rather than 5 percent.
Also on the Nov. 11 agenda is a 4.9 percent increase in the 2014 tax levy. Finance Director Ann Burkholder told trustees the levy is set high before final property tax calculations from Will County are available in March 2015, at which point the levy will be reduced.
Contact Brock A. Stein at brocknewstips@gmail.com and follow him on Twitter at @BrockAStein.