R.I.P. Banana PB & J Sandwiches
10/30/2014, 1:53 a.m.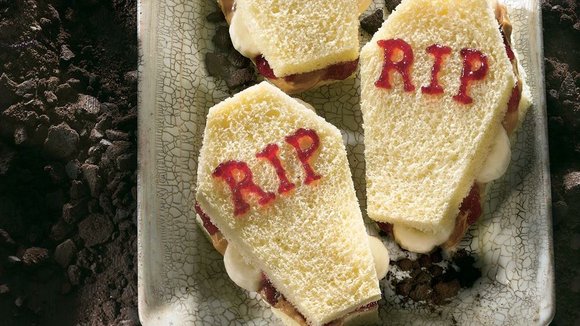 SERVINGS: 8
Ingredients
16 slices bread
9 tablespoons creamy peanut butter
9 teaspoons grape jelly
1 small banana, cut into 24 slices
Directions
Place 1 piece of bread on top of another. Cut 4-inch by 2 1/2-inch "casket" shape from longest part of bread slices. Cut 1/2 inch off both corners of top of bread slice. Repeat with remaining bread slices for 8 "caskets."

Separate bread slices. Spread 1 tablespoon peanut butter on bottom slice of each. Top with 1 teaspoon jelly, 3 banana slices and top slice of bread.

Place remaining tablespoon peanut butter and teaspoon jelly in small resealable food-storage plastic bag. Seal bag; gently knead to mix peanut butter and jelly. Cut 1/8 inch off 1 corner of bag. Squeeze RIP (rest in peace) on each "casket" sandwich. Cover and refrigerate until ready to serve.