Video gaming paying off big for local businesses, state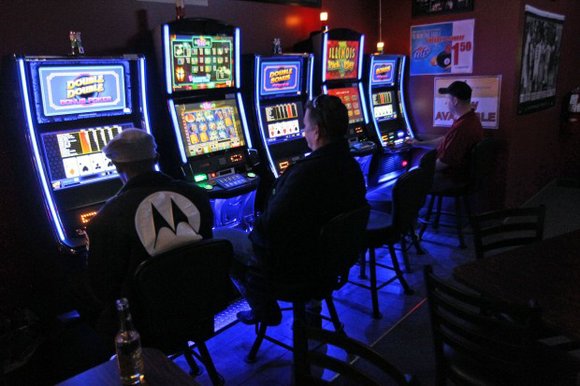 Thar's gold in them thar machines, and everyone from local tavern owners to the state of Illinois is starting to cash in.
If video gaming was slow to take off when licenses first started being issued in 2012, the gold rush is definitely under way now. As of Aug. 26, the state had approved licenses for 18,751 gaming machines and had reaped profits of $87 million in just the first eight months of this year. There are 45 pages of license applications awaiting approval, according to the Illinois Gaming Board's Web site.
In fact, the only ones that don't seem to be filling their coffers with gambling lucre are the municipalities in which the video gaming businesses are located.
Joliet has 232 machines – the third highest number in the state – yet has received only $208,991 in taxes to date this year, state statistics show. Businesses in unincorporated Will County account for 102 machines, but so far the county has pocketed only $85,079 in new revenue.
(Click here for a town-by-town breakdown of video gaming profits for local municipalities.)
The numbers don't come as a big surprise, Joliet City Manager Jim Hock said. The state oversees the licensing, monitors the income and is responsible for enforcing laws when it comes to fraud, theft and other potential problems that come up. And unlike the casinos, which can draw on a municipality's resources when it comes police and other government services, the gaming machines have posed few problems so far, Hock said.
There's been just one not-so-small hitch, he said. Joliet's two casinos – downtown Harrah's and Hollywood Casino on Route 6 – have seen their profits dropping every month, and there's no doubt that the double-whammy of more casinos in the state, particularly Rivers Casino in Des Plaines, coupled with the introduction of local gaming machines is taking its toll, he said.
"It is a negative to the city of Joliet because when there were only casinos as a form of gambling, it brought people from outside of Joliet into town," Hock said. "If you can gamble in your neighborhood bar, why go to a casino?"
That said, the casinos are not exactly going out of business just yet. Harrah's made $17.5 million in July and Hollywood's take was $10.3 million, according to Gaming Board data. Those numbers may pale when compared to Rivers Casino's $35 million for the same time period, but they're not chump change.
Romeoville Mayor John Noak said that while municipalities may not be seeing much in terms of direct tax income, the promise of a future payoff in terms of new state money for road, bridge and transportation projects is what must be remembered. The main reason the General Assembly approved video gaming legislation in 2009 was to create a new revenue source to pay for much-needed infrastructure work in those towns that allowed the machines to be installed.

Noak, for one, said he will be watching to ensure that money doesn't get shifted to other projects in the same way state Lottery funds were shifted away from the Illinois schools they were to be funding.
"It's a different era, a different time," he said.
And there's another benefit from video gaming that can't be ignored – the boon to local businesses, Noak said.
"We really went into this looking at it as an opportunity for existing businesses," he said. "For them, it's been a huge help to their bottom line and their ability to maintain their businesses."
Indeed. Romeoville has just 36 machines in town, but they've generated $721,007 in profit for the owners is the first eight months of this year. Joliet's 232 machines have produced more than $4.1 million for their owners in the same time period.
But those numbers are just drops in the bucket compared to the overall numbers being seen statewide.
Gamblers dropped nearly $4.4 billion playing video gaming machines from January to nearly the end of August, and while they won back just a little over $4 billion, the machine owners were the real winners, pocketing nearly $350 million in profits, state statistics show.
Contact Karen Sorensen at Karen@TheTimesWeekly.com.