Wine of the Week – Marvelous Yellow 2012-$14.99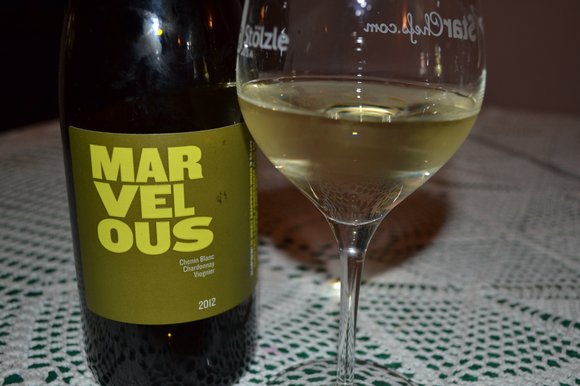 Marvelous! That single word sums up the overall impression left by a bracing wine blend from the Mulderbosch estate of South Africa. The Marvelous Yellow 2012, is a unique blend of Chenin Blanc (60%), Chardonnay (30%) and Viognier (10%).
If the blend seems somewhat unconventional, the resulting wine is touched by genius. Once you learn the backgrounds of the three creators involved, it seems logical that only something magical can result from their collaboration. Winemaker Adam Mason returned to his native Stellenbosch after a chance encounter harvesting Muscadet grapes in France gave him his first winemaking experience. To say that he became hooked on a life in winemaking is an understatement.

While working at Klein Constantia winery in South Africa, he concurrently worked a vintage with Andy Erickson at the famed (and mysterious) Screaming Eagle winery in Napa Valley. It was there that he encountered the winery's managing partner, Charles Banks, the millionaire venture capitalist known for his far-flung investments in wineries in Napa, France and, most recently, South Africa. A seed was planted, and it wasn't long before Mason found himself chief winemaker at Mulderbosch estate in Stellenbosch; a dream job. Enter master chef Peter Tempelhoff, a native of South African who began his culinary journey at the Cape Town Institute of Culinary Arts before garnering attention at some of London's most famous restaurants; Quo Vadis, the Michelin starred Hambleton Hall and finally the one Michelin starred restaurant, Zafferano. Returning to South Africa in 2006, Tempelhoff dove headfirst into the burgeoning culinary firmament of his homeland, first as Executive Chef at the award-winning Grande Provence Heritage Wine Estate, where he was named the Sunday Times Chef of the Year 2007 and then in 2008, accepting the position to oversee the five Relais Chateaux restaurants within "The Collection by Liz McGrath" as Executive Chef where he was awarded as "Relais and Chateaux Grand Chef" at their annual congress in Portugal.
From their collective expertise and passion for wine, thus Marvelous was born.
Marvelous Yellow 2012 ($14.99), is a bracing, fruit-laden wine bursting with luscious flavors of tropical fruit and opulent aromas of fresh cut wildflowers. The heady mix of floral decadence is contrasted by an austere minerality that lends itself to a flavorful meal. A slight hint of toasty oak gives it a creaminess that sits well on the tongue, followed by a long, crystalline finish. Light pasta dishes scented with fresh grown herbs are the meal of choice. Dishes flavored with basil, rosemary, tarragon or fresh fennel come to mind. I tried it with a chicken scallopini flavored with fresh basil, flat leafed parsley, mushrooms and tomatoes, substituting a half cup of Marvelous Yellow for the Marsala wine called for in the recipe, and the resulting combination was so satisfying, I had it again the next day!
Marvelous Yellow 2012 is ready to drink now, but will maintain its body and flavor through 2016. At $14.99 a bottle, its not hard to consider making room in your cellar for a case or two to enjoy down the culinary road.
Photos-1. Marvelous Yellow 2. Mulderbosch estate in Stellenbosch 3. WinemakerAdam Mason 4. Chef Peter Tempelhoff 5. Entrepreneur Charles Banks 6. With his wife Ali and two of his ventures, Screaming Eagle of Napa Valley and Mulderbosch Wines of Stellenbosch