Wine of the Week-Masottina Al Palazzi Merlot Riserva 2009-$19
Conegliano, Veneto, Italy--This is a thrilling, food-friendly red wine from the Conegliano region of the Veneto, which is best known for Prosecco sparkling wine. Piave is the DOC region of designation, according to Italian wine laws.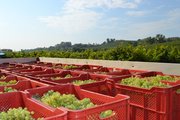 This wine proves that the region can also produce some elegant Bordeaux style wines. Its complexity from a unique blend of soil, climate and latitude. Produced in Masottina's high mountain vineyards, in the shadow of the Italian Alps, the grapes are grown in alluvial soils composed primarily of clay with an overlay of lime. This results in a unique flavor "spine" for the resulting wines. The Dal Bianco family is one of the largest and most respected vineyard operators in the region, who quickly gained respect for their portfolio of sparkling wines and their reasonably priced wines made from both international and native varieties. Of late, the reserve wines created under the watchful eye of father Adriano Bianco and his sons Filippo, the winemaker and Federico, the Marketing Manager, have rated international praise from all corners of the wine media. Decanter magazine has rated the wine one of its top picks in a panel tasting and Snooth.com has named it one of its value picks. Don't let the nominal price of $19 fool you.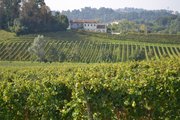 This wine has the complexity and depth to stand up to anything more than double its price. It is a classic Merlot in every way with many layers of flavors from ripened black cherries to cassis, black pepper and hints of spice from oak aging. Grapes are handpicked at optimum sugar levels at harvest, they then undergo maceration in cold temperatures, followed by post-fermentive maceration. Depth of flavor and color come from a refining period in large Slavonian oak tanks, followed by aging in small French barriques for a period of two to three years, followed by a three month period of aging in the bottle. Soft, smooth tanins round out the flavor in the mouth. The Dal Biancos have been producing this superb wine since 1997 and it has become one of the flagships of its portfolio, particularly with the growing popularity of Italian Merlots. The grapes have become among the most planted in the Veneto region. The rustic nature of the vines, many grafted from ancient root stock, adds to the rustic nature of the vine and the complex character of the wine. This wine can be enjoyed with a variety of fresh pasta dishes, particularly those with fresh, crushed vine tomatoes and fresh oregano, topped with handmade mozzarella cheese. Game meats, such as pheasant, guinea fowl, duck, or venison, even a char-grilled rare flank or skirt steak with a side of grilled fennel or onions and mushrooms would also make for an excellent flavor combination, particularly as we head into fall. I learned a new word at dinner with the Dal Bianco family, it's "squisito," Italian for something that is extremely delicious. It is also the equivalent of the English word "exquisite." I think that's even a more apt translation with regards to this wine.