Raiders Dominate Romeoville 51-14
9/11/2014, 8:41 a.m.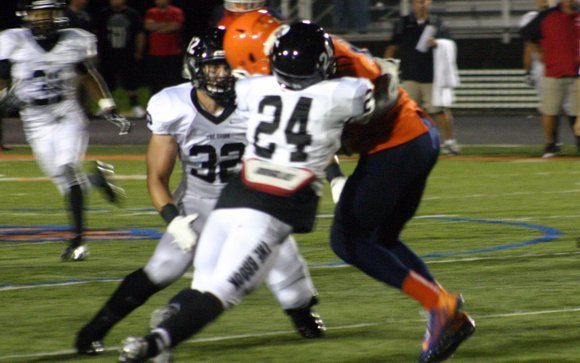 The Bolingbrook Raiders (1-1) put on an offensive explosion of scores on district rival Romeoville (0-2) Friday night which sent the two programs in different directions. For Romeoville, the loss was its second in as many weeks and left the Spartans in rough shape for their coming Southwest Prairie Conference schedule.
The Raiders opened the scoring with a grinding running game that powered the Brook to an early 7-0 lead midway through the first. On their next possession, quarterback Adam Klein rolled to his left and found a streaking Quincy Woods for a 35-yard strike that opened up a 14-0 lead but the route wasn't on just yet.
Romeoville's senior quarterback Kelvin Jones took advantage of a couple Raider penalties to inside the Brook 20-yard line and ultimately found his tight end Tony Borges for an 8-yard score over the middle but failed to convert the extra point and drew within 14-6. That would be the last threat the Spartans would muster against the stout raider defense.
Bolingbrook scored on every possession through the third quarter and built a 51-6 lead with two minutes left in the game pulling their starters. Woods provided plenty of offense for the Raiders racking up 180 yards and a pair of scores in only eight touches. He wasn't alone in standing out, Klein was sensational in his management of the game throwing for 178 yards and a pair of touchdown passes on an 8-for-8 passing performance. he also found his legs against the Spartan defense to the tune of 50 yards on the ground.
Romeoville simply was out gunned by Bolingbrook which has significantly more students in which to pull a team together still the Spartans will be looking for their first win this week as they invite Minooka to their field Friday night for their conference opener.
Bolingbrook on the other hand will head to Joliet Central for a Saturday Southwest Blue conference opener and look to keep the good times rolling for another week.