USF homecoming activities planned for this weekend
9/16/2014, 1:45 p.m.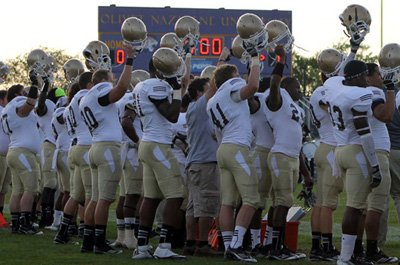 The University of St. Francis in Joliet will celebrate homecoming this weekend with these events:
The University of St. Francis will celebrate Homecoming/Reunion Weekend, Sept. 19-21 with traditional activities such as a tailgate party, football game and dance, but will also honor the university's founders, the Sisters of St. Francis of Mary Immaculate on the occasion of their 150th anniversary.
Alumni, students and parents are invited to a variety of events, but the public is also welcome at the Homecoming/Reunion football game, according to Aubrey Knight, director of Alumni & Parent Relations. Homecoming Football Game begins at 4 p.m. at Joliet Memorial Stadium when the USF Fighting Saints play Trinity International University. The game will be preceded by a tailgate for alumni, parents and students and followed by a Football Alumni Reunion.
The University of St. Francis has more than 46,000 alumni nationwide, according to Knight. Registration is required for many alumni activities. For a complete list of activities or to register for events, http://www.stfrancis.edu/alumni/hcrw
Alumni, parents and students will gather for a Hospitality Suite during the evening on Friday, Sept. 19. The evening's activities will include the Assisian Club Champagne Reception for graduates of 1964 and earlier. USF President Arvid Johnson will be host for the reception honoring those celebrating 50 and more years since graduation.
All class years are welcome to enjoy a dinner Friday to celebrate the honored classes of 2009, 2004, 1999, 1994, 1989, 1984, 1979, 1974, 1969, 1964, 1959, 1954 and earlier.
Homecoming/Reunion activities on Friday also include Parents' Network Night at the Pub and a student dance.
On Saturday, Sept. 20, there will be an Alumni, Parents & Friends Breakfast; Challenge Center Day, sponsored by the Recreation, Sport & Tourism Management Alumni Network; "A Walk Down Memory Lane" campus tour; "Joliet Gems" city tour and lunch; USF History in Photos exhibit; Bob Kase Jazz Quartet concert and cocktail hour; "Sister Bernie's Bingo Bash" dinner theater; a Young Alumni Reunion
Alumni athletes will get together to play baseball and softball games. Volleyball players will have a reunion game on Sept. 13.
The Business Alumni Network (BAN) and Education Alumni Network will both have breakfast meetings. The Nursing Alumni Network will have a "high tea."
The Alumni Association Board will have its annual meeting open to all USF alumni at 10:30 a.m. in the Motherhouse, second floor Board Room.
On Sunday, Sept. 21, the annual Alumni Memorial Mass will honor the university's founders and sponsors, the Sisters of St. Francis, who are celebrating 150 years of service to the community.
The Sisters of St. Francis began the university in 1920, with many sisters teaching and working at the institution.
"All alumni and friends are invited to worship as a community of faith as we offer thanks for our lives and remember those alumni and friends who have gone before us," said Knight. "We will also be honoring the university's founders, the Sisters of St. Francis, as they celebrate 150 years."
Mass will be followed by the Alumni Reunion Brunch and Awards Ceremony. Following the brunch, alumni are invited to visit sisters living at Our Lady of Angels Retirement Home, where many retired sisters who taught at USF now reside.