Bengals Blank Cougars 19-0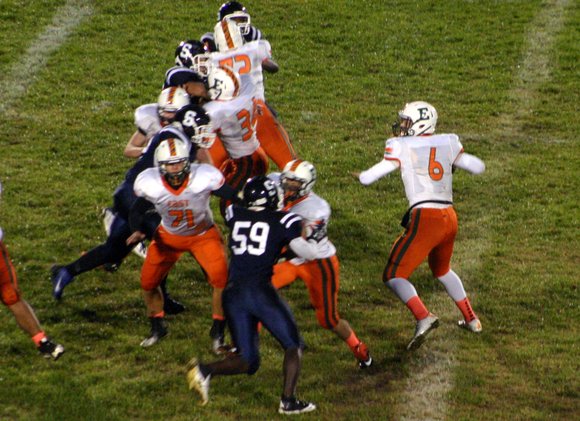 For the first time in six seasons, the Plainfield East football team comes away from a Plainfield South game with a victory and they did it convincingly Friday night with a 19-0 win.
With a swirling rain storm dampening the night and unseasonably cold temperatures to contend with, the Bengals (3-0, 1-0) used a pounding running attack and let their defense keep the Cougars off the board to get the programs first win against their conference rival.
East fought off some costly offensive penalties early and the loss of their starting quarterback Cole Kotopka to an ankle injury in the first quarter by leaning on their defense to completely shut down the Cougar attack. Bengal coach Mike Romeli turned to his senior back Jake Mayon to carry the offensive load and boy did he rise to the occasion.
Mayon rushed for 169 yards on 32 carries and scoring twice which included a highlight reel run late in the first half with a 79-yard run to the Cougar 8-yard line leading to a 13-0 lead at the half.
East put the game away in the fourth quarter with a Mayon's second score on the night taking a 19-0 lead. South put themselves in great position after the ensuing kick getting as close as the Bengal 12-yard line but failed to convert on a fourth down try and saw the Bengals grind out the remainder.
For East, the win puts them in a great spot for a potential playoff spot repeating their accomplishment from last season's performance but this Bengal team looks like they have the tools to go a long way this season. As for Plainfield South (0-3, 0-1), the loss is a stinging one. With six games to play, the Cougars will need an incredible reversal of fortunes to have any post season shot needing to win five of their next six for a potential at large birth.
"We have some soul searching to do and will need to dig deep to get a win," said Cougar coach Ken Bublitz after the loss. "The season is way too early to scrap and we have a lot of fight in us we just have to limit our mistakes and put a few good drives together. We are a work in progress."