Dist. 202 students' scores improve on standardized tests
9/24/2014, 7:18 a.m.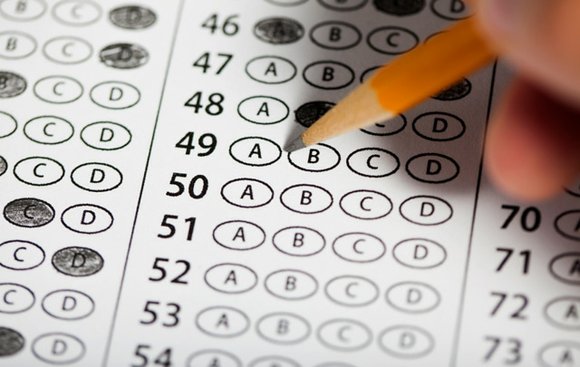 District 202, with schools in Plainfield, Joliet, Bolingbrook and Romeoville, provided this report.
District 202's scores rose for the most part this year on the state's standardized achievement exams and other traditional academic measures.
This good news comes as the state prepares to replace the current state tests next spring with new standardized exams completely aligned to the more rigorous Common Core State Learning Standards.
"Overall, our students and teachers did very well once again during a difficult period of transition that created a lot of confusion and anxiety for everyone involve," said Glenn Wood, assistant superintendent for curriculum and instruction.
"Certainly there is always room for improvement, but District 202 has a lot to be proud of in terms of our academic success," he said.
The district's math scores on the Illinois Standards Achievement Test (ISAT), given to 3rd through 8th graders, rose by 4.2 percentage points, from 71 percent meeting expectations in 2013, to 75.2 percent.
However District 202's ISAT reading score dropped by 2.8 percentage points (from 69 percent meeting in 2013 to 66.2 percent meeting last spring). Science achievement remained at 89 percent meeting.
The state did not generate average math or reading scores this year since not all districts took the ISAT last spring.
Last spring's ISAT entirely comprised Common Core math and English questions. District 202 implemented the Common Core math standards a year ago, but is implementing the English standards this fall. There are no Common Core science standards yet.
"This shows that our students were ready, and did well on those parts of the state exam that we were appropriately prepared for," Wood said.
"This also suggests that we will do well next spring on the entire exam, since we will have been teaching the English Common Core standards for most of this school year, just as we had been teaching the math standards most of last school year before the students took the state test," he said.
HIGH SCHOOL SCORES ALSO UP
Likewise, District 202's scores improved on the Prairie State Achievement Exam (PSAE) given to high school juniors.
The PSAE reading score rose 1.9 percentage points, from 60.5 meeting expectations in 2013 to 62.4 percent this year, which far exceeded the state average score of 56.3 percent.
Likewise, 57.9 percent of students met expectations this year, up from 50 percent, and well over the state average of 52.3 percent.
Science scores rose by 1.3 percentage points as 53.7 percent of students met expectations, up from 52.4 percent, and higher than the state average of 49.6 percent.
ACT RISES AGAIN
As well, the District composite score on the ACT college entrance exam rose again after a one-year drop, which was largely attributed to a significant change in the testing system.
District 202 notched a 20.7 composite score among graduating 2014 seniors, up from 20.4 last year. The state average was also 20.7, and the national average was 21.0.
RECORD NUMBER OF AP SCHOLARS
Finally, District 202 saw another record-high number of Advanced Placement scholars - 233, up from 231 the year before. The AP program lets motivated and academically prepared high school students take challenging, college-level courses and get college credit, advanced placement or both for successful performance on the AP Exams.
Since 2006, District 202 has strategically increased the number of AP classes offered, increased access to those classes and provided additional support to students who choose to take them, so as to give more students the chance to experience and succeed with a college-level curriculum.
NCLB, STATE TESTS ENDING, NEW TEST COMING
The ISAT was administered for the last time last spring. The exam was attached to the No Child Left Behind act which required a percentage of students to meet state learning expectations each year for a school to make "adequate yearly progress" (AYP).
Educators roundly criticized NCLB for setting arbitrary expectations, letting states create their own learning standards, requiring all students and schools to make the same level of progress and then penalizing local school districts that did not meet NCLB criteria.
The federal government still has not re-authorized NCLB. However, it is effectively dead.
In response to NCLB's failings, in 2010 a consortium of governors, business leaders and nation-wide education leaders created the Common Core State Learning Standards (CCSS).
The CCSS set a consistent bar for the states that have chosen to implement them. Illinois is one of 43 states using the CCSS as its measure for academic achievement.
The CCSS standards are more rigorous, cover fewer subjects, teach those subjects to greater depth and emphasize comprehension of the material rather than simply memorizing details in order to do well on a standardized exam.
The state had phased in CCSS questions into the ISAT and PSAE the last two years. Next spring it will administer the PARCC exam, which completely comprises CCSS material.
The CCSS has not been without its own controversy though. Critics have objected to its new teaching methods, lack of official resources from major textbook publishers and, particularly, the standardized exams that will be used to measure student performance.
"We believe that in the end the CCSS will serve our students very well and will help us do a better job of preparing them for the world they will live and work in after school," Wood said.