JJC holding fair on science, tech, math and related programs
9/26/2014, 10:15 a.m.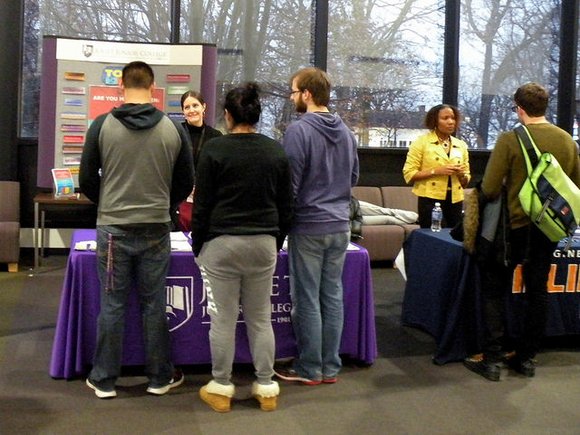 Joliet Junior College provided this news release:
Joliet Junior College students, high school students and the community are invited to learn more about educational opportunities in science, technology, engineering and mathematics (STEM) at JJC's second STEM Transfer Fair on Tuesday, Sept. 30 from 10 a.m. to 1 p.m. on the the Main Campus at 1215 Houbolt Road in Joliet.
STEM education focuses on combining the subjects of science, technology, engineering, and math and prepares students for a number of different opportunities, including careers as computer support specialists, software developers, electrical engineers, biomedical engineers, general and operations managers, and more.
JJC's fair will have up to 20 big-name and local university representatives available for transfer questions, information on STEM programs, scholarships and more.
According to JJC Technical Department Specialist Luann DiMonte, this year's fair will also showcase some of JJC's programs, and include hands-on demonstrations of a virtual welder machine, robotics equipment used in one of JJC's newest Technical Department courses, and diagnostic equipment students operate in automotive classes. JJC Professor of Orthotics and Prosthetics Mike Brncick will also be at the fair, showing off how a myoelectric prosthesis machine works.
"These hands-on demonstrations will be exciting for students and it will help them understand more about the STEM field firsthand," DiMonte said. "Hosting the fair is also a way to show that STEM careers are related to a number of different areas of study, many of which students can get started on here at JJC."
JJC has many opportunities for students looking for beginner coursework in the STEM field, and the Technical Department is currently planning an "Introduction to STEM," course for the future, answering JJC's goal of offering students courses that respond to the demands of the labor market.
"This country has a shortage of people with degrees in technology and math and sciences," said Cheryl Turrise, JJC Transfer Specialist. "One thing we are hoping to do with the STEM Transfer Fair is instill interest in these fields and let people know that there are plenty of opportunities and jobs in these fields."
Turrise added that the STEM Transfer Fair is a perfect place for students and others to start researching the programs and schools they're interested in. Future and current JJC students in STEM-related majors should make transfer decisions as soon as possible because many schools that offer STEM have strict, structured programs that only accept certain transfer courses from JJC.
According to a 2011 U.S. News article, a worker with a degree in the STEM field has a higher salary than 63 percent of those who have degrees in other fields, earning approximately $500,000 more in his or her lifetime.
The Bureau of Labor Statistics reports that the STEM field has grown 22 percent in the past ten years, and that growth is only expected to continue.
For more information about JJC's Technical Department and STEM-related programs or classes, visit www.jjc.edu/info/technical. For more information about transferring at JJC, visit www.jjc.edu/info/transfer.