Brooks shuts out Addams to win regional baseball title
9/29/2014, 6:41 a.m.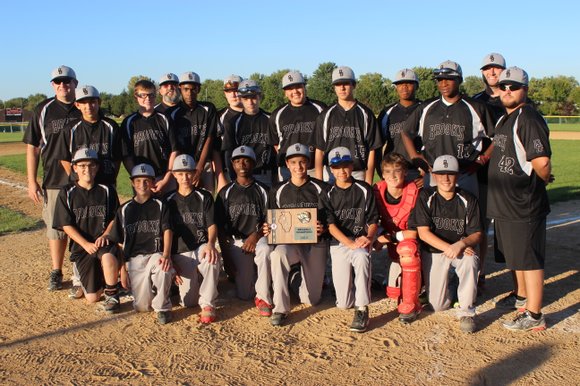 Eric Haislip hurled a two-hitter and Brandon Reynolds knocked in a pair of runs to lead Brooks Middle School to a 5-0 IESA Class 3A regional championship victory over Jane Addams Middle School Monday afternoon.
The Bulldogs (8-3) move on to sectionals at 10 a.m. Saturday on their home field against either Homer Junior High School or Mokena. The Saturday winner heads to the state quarterfinals at 10:30 a.m. Oct. 3 in East Peoria.
Haislip, who struck out nine while going the distance, was locked in a pitcher's duel with Jacob Page through the first four innings before Brooks scored three times in fifth and once in the sixth. The only hits he gave up were to Josh Madsen and Connor Elliot.
A Jack Jarka double and Reynolds' bloop single to right field produced a first inning run for the Bulldogs. After Page worked out of a bases load jam in the fourth inning, Haislip's one-out single and stolen base got Brooks going in the fifth. Jarka lined a single to center, went to third on a wild pitch and throwing error and scored on Reynolds' grounder. Tyler Kallum was safe on an error and Jacob Zito tripled to the left field fence to make it 4-0.
Tyler Cochran's single, an error and Chris Yancey's pinch hit single added the final run in the 6th inning.
Other members of the Brooks squad include Ethan Schoenleber, V.J. Braggs, Jordan Jackson, Chris Hallum, Chris Kuras, Eric Brociek, Justin Klatt, Nathaniel Sider, Roberto Lopez and Xavier Diaz. Their head coach is Patrick Meginniss with assistance from Joe Bleers, Tim Kidwell, Matt Mamak and Dylan Crouse.
Addams (6-6) team members include Page, Madsen, Elliot, Kyle Moore, Ben Mottlow, Sam Harvey, Sebastian Nevarez, Christian Terriquez, Jacob Churulo, Rico Wardlow, Kristian Bielski, Diego Krawchuck, Alex Tran and Armand Morales. Head coach is Eric Sommers with assistance from Jeff Reyes.