Saints Split Two At Tournament
9/29/2014, 3:58 p.m.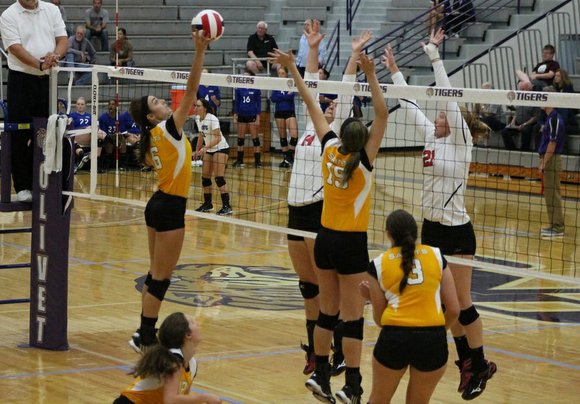 The University of St. Francis volleyball team split a pair of matches on the first day of the Olivet Nazarene University Holiday Inn Express Invitational, falling to No. 14-ranked Grand View University in a five-set affair before sweeping Campbellsville University in three sets.
St. Francis took the 14th-ranked Vikings (8-5) to a fifth set in a two-hour, fifteen-minute contest, but came up short of the upset with a 15-13 loss in the deciding set. Junior Shelby Kupferschmid and senior Caleigh Hill (Shorewood, Ill./ Minooka) led the Saints offensively with 14 and 12 kills, respectively, while sophomore Alyssa Bridleman collected a team-high four blocks.
Four Saints notched double-digit digs, led by sophomore Brooke Hartnell's 34. Kupferschmid added 25 digs. Freshman Leah Alles (Tinley Park, Ill./ Providence Catholic) finished the match with 12 digs and four aces.
St. Francis fell to 0-5 against nationally-ranked teams, with three of the losses coming in five-set matches.
The Saints mounted rallies in each of the final two sets en route to the win over Campbellsville (4-8). USF overcame a 19-7 deficit in the second set and bounced back from a 22-19 gap in the third set before taking each set 25-23.
Bridleman recorded six blocks and Hill added four to help the Saints salvage a split on the day. Junior Megan Mowery collected 10 kills and 10 assists to go along with seven digs. Hartnell led USF in digs again, this time with 21.