Pizza Bubble Ring
9/30/2014, 6:18 a.m.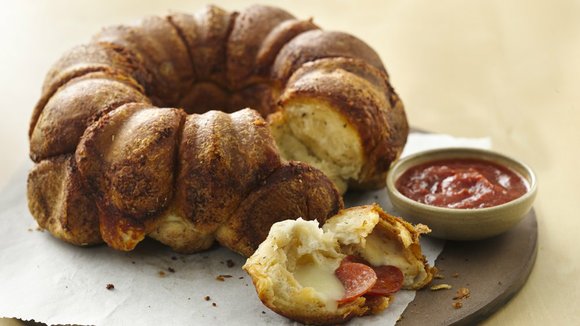 Servings: 20
Ingredients
6 to 8 tablespoons Butter, melted
1 teaspoon Italian seasoning
½ teaspoon garlic powder
2 cans (12 oz each) Pillsbury™ Grands!™ Jr. Golden Layers® refrigerated flaky original biscuits
40 small slices pepperoni (about 3 oz)
8 oz mozzarella cheese, cut into 20 pieces
¼ cup grated Parmesan cheese
1 1/4 cups pizza sauce, heated
Directions
Heat oven to 350°F. Spray 12-cup fluted tube pan with CRISCO® Original No-Stick Cooking Spray. In small bowl, mix melted butter, Italian seasoning and garlic powder.

Separate 1 can of dough into 10 biscuits; press or roll each into 3-inch round. Place 2 pepperoni slices in center of each biscuit round. Top each with piece of mozzarella cheese. Bring dough up around filling; press edge to seal and shape each into ball. Roll in butter mixture; place 10 balls in pan.

Sprinkle dough balls with Parmesan cheese. Repeat with remaining can of biscuits, placing balls over balls in pan. Pour remaining butter mixture over top.
Bake 33 to 38 minutes or until deep golden brown. Cool 5 minutes. Gently loosen bread from sides of pan. Place large heatproof plate upside down over pan; turn plate and pan over. Remove pan. Serve warm with warm pizza sauce for dipping.