Evergreen tops O'Dekirk's 'to-do' list as new mayor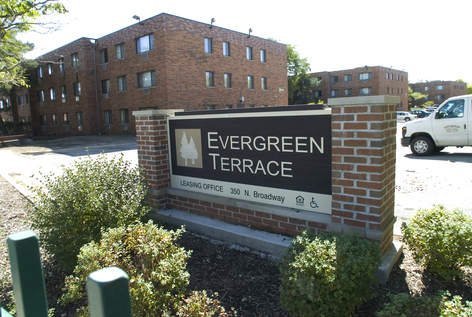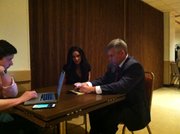 Asked the first thing he plans to tackle as the new mayor of Joliet, Bob O'Dekirk does not hesitate: Evergreen Terrace.
The troubled apartment complex, which is now the city's to buy, had been one of his chief election issues, and he's not been shy about worrying that there's no plan in place for what the city will do once it takes ownership.
"We need to get a handle on it," O'Dekirk said. "One day soon the city manager is going to come to (the council) with a request that we buy it, and we need to get something on the table on what we're going to do."
But it's just one of many issues he'll be dealing with once he's sworn in to the city's top elected job, which he plans to serve in a full-time capacity despite the fact that it's a part-time job. His law firm is up and running, he said, and will supplement the $33,250 income he'll earn as mayor.
Until the swearing-in ceremony takes place in May, however, O'Dekirk said he will be making plans – and taking a moment or two to bask in his victory.
"It was a really nice ending to a tough campaign," he said. "I'm really ready to go. I've spoken to the city manager, and I've got meetings set up for the next two days. I'm putting a transition team together."
Although just 11 percent of the registered voters in Joliet turned out to vote, O'Dekirk's win Tuesday was a decisive one. He received 6,153 votes to the 4,301 cast for incumbent Mayor Tom Giarrante and 962 for Andy Mihelich, president of the Joliet Junior College Board.
O'Derkirk said he sees that as a clear mandate.
"I think there's an underlying sense that people want change," he said.
Part of that change will be actively marketing the city as a place for business, and changing the perception that Joliet is an old and tired -- rather than growing and vibrant -- municipality, he said.
Hiring a firm that can lobby on the city's behalf and bring in new grant money is a good place to start since it won't cost Joliet a dime, O'Dekirk said. Any firm hired will be paid by taking a percentage of the new money it generates, he said.
O'Dekirk has also said he wants to create a new administrative position of economic development director, whose sole task will be to find new businesses for the city. That will require some job shifts in city hall, a plan he wasn't ready to discuss yet.
"I'd rather not go there right now," he said.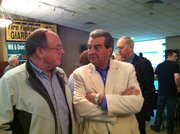 Giarrante said he was disappointed both in his loss Tuesday night and in the low voter turnout, which didn't help his cause.
"I don't know why I didn't win," he said. "If I knew that, I'd be running other people's campaigns."
While it is the end of era of sorts – Giarrante's political career started with six years on the Joliet Park Board followed by 16 years as a councilman and four as mayor – he said he was looking at it as the beginning of an era.