JTHS band library to be named in honor of longtime supporter
4/8/2015, 8:28 p.m.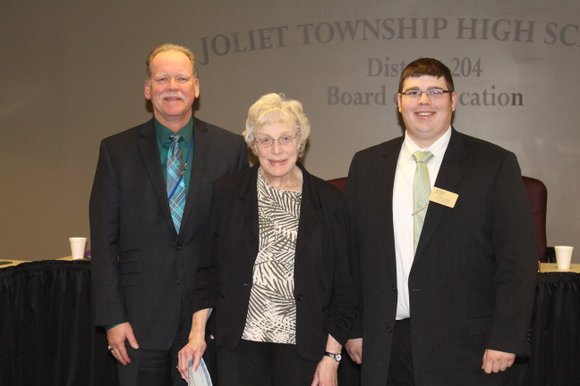 Joliet Township High School District 204 provided this news release:
Longtime supporter of the Joliet Township Band Program, Janice Uffelmann, was honored at the March school board meeting for her efforts in organizing and conserving the Joliet Township High School Band Library.
Joliet Central High School Principal John Randich announced that the library would be named in her honor and Uffelmann received a special plaque to commemorate her service.
"In honor of her years of devotion and service to the Joliet Township High School Bands, and for her countless hours of work in organizing and maintaining the Band Library at the Central Campus, the Band Library shall be named the Janice Hacker Uffelmann Band Library," announced Principal John Randich.
Uffelmann graduated from Joliet Township High School in 1962. Playing the marimba, she was one of the only girls in the JT band at that time. She then became a JTHS band parent. Her two children, Brad and Mayne, played under the direction of Mr. Ted Lega. Uffelmann was heavily involved in the Band Parents and helped with uniforms, chaperoned trips, and participated in leadership. She has played in the Joliet American Legion Band and still plays in the Joliet Junior College Community Band.
Following the 2001 Alumni Band Concert celebrating the Centennial of Joliet Township High School, Uffelmann helped orchestrate the JTHS Band Alumni Association. She was also an active member in the planning of the Joliet Area Historical Museums, "Strike Up the Band" exhibit.
Uffelmann saw a need for help in organizing and maintain the band library at Joliet Central High School. She began to volunteer her time sorting and filing band music. The JTHS Band Library at Central Campus is one of the most extensive high school band libraries in the world, with well over 6,000 titles in its catalog. Jan Uffelmann has taken an antique card file and transformed it into a searchable computer database. All of her work was done on a volunteer basis without compensation. To honor her lifelong devotion and support of the JTHS Band, a plaque will be hung at the top of the balcony steps in the band room that reads "Janice Hacker Uffelmann Band Library."