Trolley barn rehab plans presented to Plainfield board
Brock A. Stein | 4/13/2015, 10:30 p.m.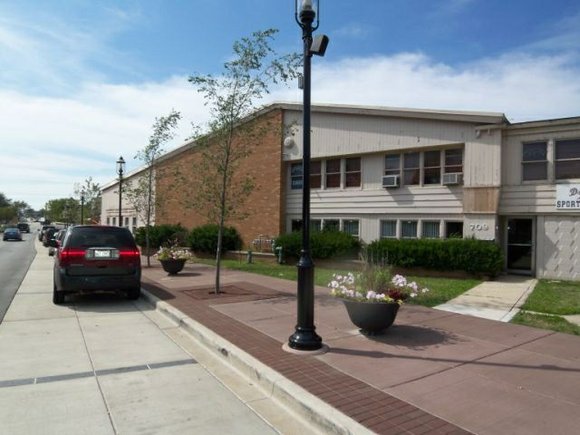 A dilapidated trolley barn on the western edge of Plainfield's historic downtown Lockport Street could get a much needed makeover in the coming months.
Plainfield trustees got a first glimpse of the proposed rehab of the trolley barn/Railoc Building, 24216 Lockport St., on Monday night.
New owner Paul Wojcieszak said he plans to demolish the western portion of the 19,000-square-foot building and convert about 7,000 square feet of it into a two-story office space.

His company, Sheffield Safety and Loss Control, would relocate its corporate headquarters from downtown Chicago to the new space, Village Planner Michael Garrigan said. The remaining space will be leased, he said, and could bring a renewed vitality to that portion Lockport Street.
"We think this project has the potential to become a commercial anchor of the western edge of the village," Garrigan said.
The building's become rundown after being unoccupied for so long, he said.
"It's been vacant for a number of years and has seen better days," Garrigan said.
The plans have met with the approval from the village's Historic Preservation Commission.
"Overall, I think the applicant has completed a very sensitive restoration of the trolley barn," Garrigan said.
The original building was constructed in 1903, with additions made in the 1940s and '50s, when it was home to the Railoc Co. Inside the building are the remains of the trolley line tracks that used to run between Plainfield, Joliet and Aurora.
Restoration will include a metal-and-glass façade to provide natural light inside the building, which Wojcieszak described as "cavernous." Attention to historical details also means restoring the original limestone facing Lockport Street, he said.
Wojcieszak plans to ask the village board next month for a facade grant to cover some of the exterior work's expense.
Trustee Jim Racich said he was concerned Wojcieszak would ask for a tax abatement in addition to a façade grant, and warned that with state funding cuts looming, there would be no tax breaks offered.
"Our funding in the future is in jeopardy," Racich said.
Funding for façade grants, however, come from the village's Tax Increment Funding (TIF) district and would not be impacted by proposed budget cuts from the state, Village Administrator Brian Murphy said.
Wojcieszak said he had no plans to apply for a tax abatement or other assistance beyond the façade grant.
In addition to office space, Wojcieszak said his portion of the building would also include training space and a retail site for selling safety supplies, such as hard hats and safety glasses.
Wojcieszak said he is not a developer and that he originally only wanted to purchase a portion of the site but wound up with more than he needed for his business expansion.
"I wanted this space to grow my business," said Wojcieszak. "I bought an office and inherited a trolley barn."
Trustees will vote on approval of the site plan at a future village board meeting.