'Hamlet' to be staged this weekend at JCHS
4/15/2015, 8:59 a.m.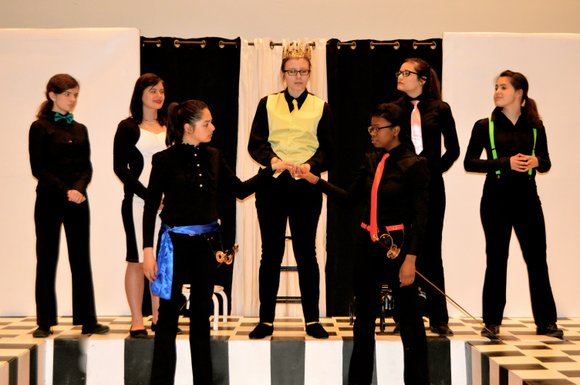 Joliet Township High School District 204 provided this news release:
The Joliet Central High School Drama Department is pleased to announce the opening of their spring play production of William Shakespeare's "The Tragedy of Hamlet, Prince of Denmark." The play will take place on April 17 and 18 at 7 p.m. and on April 19 at 3 p.m. in the Joliet Central High School Auditorium located at 201 E. Jefferson Street in Joliet. Tickets at $5 for adults and $3 for students.

"Joliet Central's production of Hamlet is unique in that the lead characters – Hamlet, Claudius, Gertrude, Polonius, Ophelia, Horatio, and Laertes – are all played by female actors," said JCHS Drama Director Joseph Hoyt. "Karen Perez stars in the lead role and has developed a strong connection to the extreme complications and thoughts that plagues the title character."
Cut down to approximately 90 minutes, Shakespeare's 4-hour original version has been reduced to a satisfying, but palatable and audience friendly.
Hoyt, is excited to bring Shakespeare to the stage at Central. "We study Shakespeare in many of our English classes, at all different grade levels, so it's exciting to bring one of his works to life for students and the community."
Joseph Hoyt (Director) runs the Drama Department at Joliet Central and Hamlet is his 5th production for the high school. A professional actor and director, Joseph received his teaching certification in Drama and English after 15 years performing and directing regional theatre productions in Ohio, Pennsylvania, West Virginia, Kentucky, and Chicago, IL. Some of his directing credits include A Mid Summer Night's Dream, The Rats, Outcasts of Poker Flat, Lend Me a Tenor, Funny Money, Stonewater Rapture, and Biloxi Blues.
WHAT: "The greatest play in the history of the world"—Associated Press
William Shakespeare's Hamlet is the most produced, published, and translated play of all-time.
DATES: April 17th 7:0pm, April 18th 7:0pm, April 19th 3:00pm
WHERE: Joliet Central High School Auditorium
TIMES: House opens 30 minutes prior to show time.
TICKETS: Adults – $5 / Students - $3