Men of Valor vows to end Joliet gun violence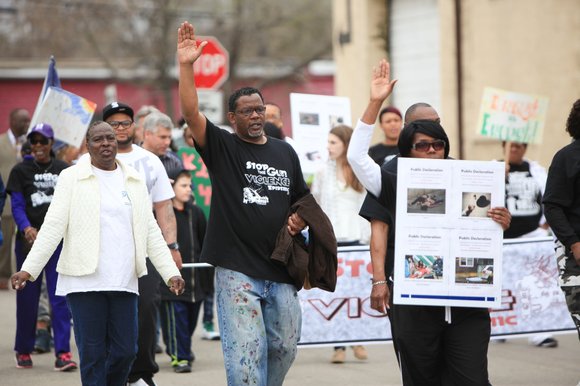 Just a few hours before the Men of Valor 2's prayer walk to end Joliet gun violence Sunday, two women were shot as they left bars on Collins Street.
A few hours after it ended, a Joliet man was shot in the head in a gang battle waged in a beer garden at Meeker and Henderson streets.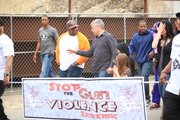 Clearly, no overnight solutions are going to end gun crime in the state's fourth-largest city and walks alone won't get the job done, Pastor Lonnie Posley Sr. But the solution has to start somewhere and the problem must be tackled from many different avenues, he said.
Ground zero is Posley's New Canaan Land Christian Church at 225 E. Clinton, where he has resurrected the dormant Men of Valor movement as a means of organizing Joliet residents to join the fight. The group meets at 7 p.m. every other Tuesday to discuss a variety of ways to reach out to young people and provide the means to keep them away from crime and get them into school, jobs and church. (The next meeting is April 28.)
"The city is so divided racially, socially, economically," Posley said. "But I don't look at the obstacles. I look at the goal."
The most important thing to remember is that violence and crime do not have just one source, he said. It's not only a gang problem, and it's not just mental illness or racial tensions or lack of jobs or the need for role models and mentors, he said. And it's not just a black community problem.
Nor is it one that is Joliet's alone. The size of the city's population makes the crime numbers higher, but gangs and gun violence have also posed problems for towns such as Bolingbrook and Romeoville.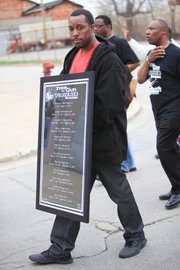 Sunday's prayer walk was one Men of Valor's opening salvos in getting the word out about their mission, and it was successful not only because the public embraced it but because it also had the support of city leaders, including Joliet Mayor-elect Bob O'Dekirk and Councilmen Jim McFarland, Terry Morris and Larry Hug.
It was the second of what will be five walks. The first four will be held in different parts of Joliet, one each in the south, north, east and west neighborhoods, and the last attempting bring all four sides "together as a collective body" – a symbolic unification of the city, he said. (The next one will be at 2 p.m. May 3 at Forest Park Community Center, 1017 Woodruff Road.)
Posley said he was surprised at how emotional the walks have made him feel.
"People came out of their houses, kids were running alongside us," he said. "It was tear-jerking, the response we had from the people."
Men of Valor originated in 2001 with a similar mission, but one aimed more at men – finding ways to help men get an education, secure work, avoid lives of crime, avoid returning to prison and change patterns of behavior, Posley said.