Fried pickles, cheese curds, gluten-free hot dogs, more added to Slammers menu
4/17/2015, 10:35 a.m.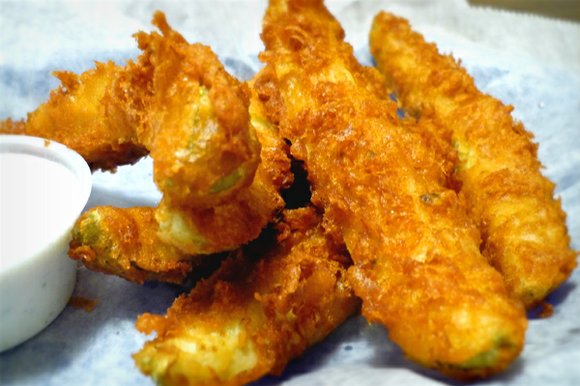 The Joliet Slammers provided this news release:
The Joliet Slammers presented by ATI Physical Therapy announce that they will up the ante in the food offerings available this summer at Silver Cross Field.
We always start with dessert, right? A new dessert cart for a sweet treat will be rolled through our suites every home game. All suite ticket holders will be offered a cart full of delicious and tempting options all summer long. Our Steel City grill goes a bit North with authentic cheese curds, and an array of brats including a chicken apple sausage and polish. Chili's added to the menu with cheese curds as a topping!
Also, the Slammers own "Bratwich" is here! It's a grilled brat topped with cheese curds and melted white cheese on a Milano French roll. Come to our Bratsgiving event in August to win brats for a year.
Our Crossroads grill adds fried pickles, onion rings, and a flavored fry to the menu this year.
Mom is not happy about what we added to the Sweet Spot. We added more desserts like a warmed chocolate lava cake, an oreo churro, krispie treats, and more.
A new "healthy" stand is coming to the concourse level. It will feature a healthy and gluten free options sponsored by shopgourmet.com. We will feature options now available for those with celiac disease with a gluten free hot dog and brat. This stand will also feature organic and healthier options in candy, cookies, and other delicious options.
The Joint will continue to feature Italian products including pizza prepared and cooked in the stand, and will include for 2015 a pesto chicken sandwich on a Milano Focaccia bun this year. Also on Thursdays only, try to get the "Walk" featuring 4 Italian Meatballs on Milano's French bread with marinara and cheese. This meatball sandwich is a whole pound of deliciousness!
The grill cart will now feature fresh street style barbacoa tacos on corn tortillas. Plus, try the "Jilly", a twist on the Philly but done Joliet style with giardiniera, mushrooms, and onions topped with melted white cheese on French bread. You will also find special desserts on select nights made on the flat top grill.
2015 will also feature the 7th inning milk and cookie stretch. Our specially dressed milk man will be on the concourse with his warmer of warm freshly baked chocolate chunk cookies and milk at a special low cost while supplies last!
Other ballpark changes include a larger all beef hot dog at the same price, a 32 oz souvenir cup, and new express beer lines in the left and right field concourses.