2015 Jeep Renegade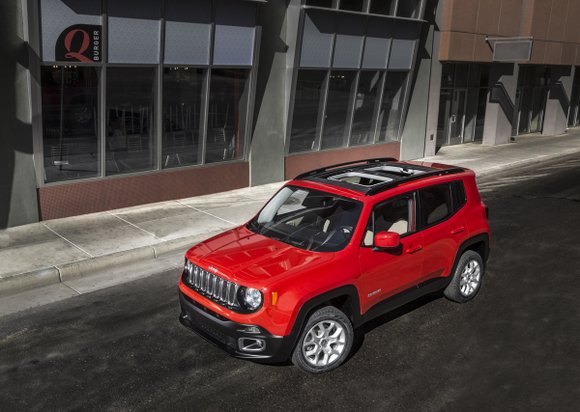 The 2015 Jeep Renegade is an integral part of the globalization of the brand's industrial foot print. That means Jeep is in search of more sales, a lot more sales. The small sport utility that is assembled in Europe by Fiat Chrysler Automobiles for the U.S. market will eventually be produced in Brazil and China.
The Renegade's new platform is capable of housing 16 different powertrains. In Europe, where almost half the vehicles sold are powered by diesel engines, the Renegade has got to have an oil burner option under the hood. In South America, especially Brazil where gasoline is now the alternative fuel, they've got to have flex fuel engines that efficiently burn ethanol. And in China, where we don't know the power proclivities of the market, the Renegade will undoubtedly have a powertrain to match the engine tastes of the masses.
But don't get it twisted. As a Jeep executive said during the presentation, the Renegade was designed and engineered at the company's headquarters in Auburn Hills, Michigan. "It wasn't like (we just) dropped it off in Italy," he said referring to corporate parent Fiat.
We think the 2015 Jeep Renegade is the key vehicle in Jeep's push to almost double its global sales from more than one million in 2014, itself a record, to 1.9 million by 2018. That means that success in the U.S., by far Jeep's largest market, is paramount.
There are two versions of the new Jeep Renegade and four trim lines. A 2.4-liter four cylinder engine makes 180 horsepower and 175 pound-feet of torque. It has a segment first nine-speed automatic transmission. A second turbocharged 1.4-liter four-cylinder engine makes 160 horsepower and 184 pound-feet of torque. It is mated to six-speed manual gear box.
At the time of the test drive fuel efficiency numbers had not be finalized but Jeep officials said that both engines will get more than 30 mpg on the highway.
There are three trim lines: Sport, Latitude and Limited. And they all come in either front-wheel-drive or four-wheel-drive versions and they can be outfitted with either of the four cylinder engines.
Actually, there are four trim lines if you count the Trailhawk. The Renegade is a Jeep and as such it must have credible off road capabilities. The Trailhawk gets that done. What's more, the Renegade offers two 4X4 systems.
Both offer rear axle disconnects allowing them to shift between 4X2 and 4X4 seamlessly at any speed. The Jeep Active Drive system can provide massive torque to the rear wheels when needed. While the Jeep Active Drive Low system has, in addition to Auto, Snow, Sand and Mud driving modes, a Rock mode on the Trailhawk version. It also has select-speed control and hill descent.
On an 80 degree descent of 300 feet, we went down in a Renegade Trailhawk using hill descent and never touched the brakes. The Renegade may not be a Jeep Wrangler but on this moderate off road route it proved that it could handle off road trails that we don't think its competitors could cope with.