Downtown Plainfield facelift under way before summer season
Brock A. Stein | 4/21/2015, 8:57 a.m.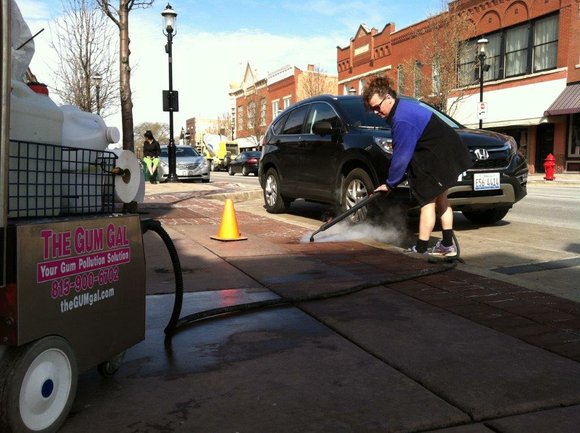 Gina Kappler hates litter.
"I think it's disgusting so I look down a lot and pick up other people's litter," said the small business owner, who was working in Downtown Plainfield recently.
Kappler's company, The Gum Gal, is helping to clean up Plainfield's historic downtown as the village works to refresh a stretch of Lockport Street before the start of the busy summer season.
Kappler started her company three years ago inspired by her distaste for the site of litter and, in particular, smooshed gum stuck to sidewalks.
"I thought, 'There's got to be some solution", she said, recalling her decision to find a method for removing the sticky, masticated leftovers.
Her company takes an earth-friendly approach, using a biodegradable solvent and a high-pressure steam process that melts the leftover gum away in about 30 seconds. The method has the benefit of using a small amount of water -- about 8 gallons per day -- as opposed to other treatments that can use up to 8,000 gallons, Kappler said. Many times, the blackened spots on the sidewalk don't even look like the remains of gum, she said.
"A lot of people don't realize it's gum," she said.
Kappler said her company did a similar job for the Field Museum in Chicago last year. She and her crew will work about two weeks on the project in Plainfield before public works crews power wash all of the sidewalks before the end of May.
"We're trying to get it done pretty quickly," she said.
Kappler's part of the project is just one piece of the $134,000 refresh for Plainfield's historic downtown.
The village is doing the work in anticipation of welcoming visitors back for a busy summer of car shows, shopping and outdoor dining.
The scope of work will include removing and replacing old concrete, refinishing public planters and replacing some landscaping. All of the surfaces will get spruced up by power washing, Plainfield Public Works Supervisor Randall Jessen said.
The village waited until after the hometown Irish parade in March and are now on a tight deadline to have most of the major work done before the first classic car show on Memorial Day weekend.

A lot of behind-the-scenes work was done prior to the start of the project to make the work as painless to downtown business owners as possible, Jessen said. That includes limiting the use of jack hammers for removing old concrete and re-installing concrete 24 hours after an old section has been removed.
Public works director Allen Persons said Plainfield's downtown has become a popular destination for residents and out-of-town visitors attracted by the weekly car shows in the summer as well as the chance to shop and eat at outdoor restaurant seating. All that traffic has come at a cost however, he said.
"Some of the areas have become a little weathered and worn," Persons said.
Trustee Jim Racich thinks the investment in refurbishing the downtown is money well spent. He points to nearby towns like Romeoville and Bolingbrook, which have vibrant commercial corridors but would love to have a central downtown shopping district. It's a feature that makes Plainfield unique and dynamic, he said.
"Having a vital downtown is making it dynamic," he said.