Mojo Pork Chops with Plantains
4/21/2015, 10:44 p.m.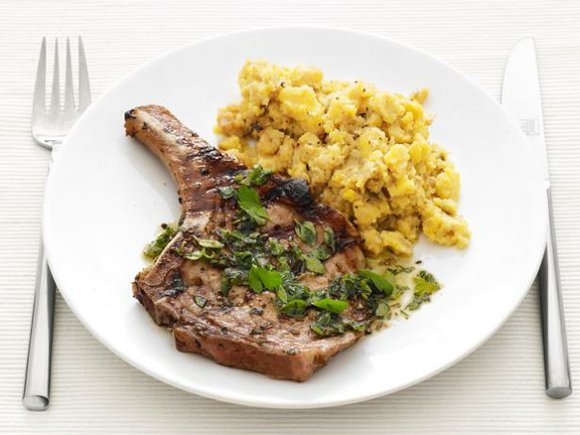 Ingredients
1 orange
1 grapefruit
1/2 cup extra-virgin olive oil, plus more for drizzling
3 tablespoons white wine vinegar
2 tablespoons chopped fresh oregano
2 teaspoons cumin seeds, crushed
Kosher salt and freshly ground pepper
2 pounds thin bone-in pork chops
1 clove garlic, chopped
1/2 cup chopped fresh parsley
3 ripe plantains (or 1 pound potatoes), peeled and quartered
Directions
Cut a 2-inch strip of zest from both the orange and grapefruit; place in a glass bowl. Squeeze 3 tablespoons juice from each fruit into the bowl (set the fruit aside). Whisk in 3 tablespoons olive oil, 2 tablespoons vinegar, 1 tablespoon oregano, the cumin seeds, and salt and pepper to taste. Poke the pork chops with a fork, then add them to the marinade, turning to coat. Set aside for 20 minutes.
Meanwhile, make the mojo sauce: Squeeze 1 tablespoon each orange and grapefruit juice into another bowl; whisk in the remaining 1 tablespoon vinegar, 5 tablespoons olive oil, 1 tablespoon oregano, garlic and parsley. Season with 1/2 teaspoon salt, and pepper to taste.
Boil the plantains in a saucepan of salted water, covered, until tender, about 15 minutes. Drain, reserving about 1/2 cup cooking liquid. Smash the plantains with a potato masher, drizzling with olive oil and some of the cooking liquid. Season with salt and pepper; keep warm.
Heat 2 medium skillets over medium-high heat. Remove the pork from the marinade; pat dry. Brush the chops lightly with some of the mojo sauce; sear until golden and slightly crisp on one side, about 5 minutes. Turn and cook about 3 more minutes. Divide the pork and plantains among plates and drizzle with more mojo sauce.