Romeo school receives U.S. flag flown in ISIS fight
4/21/2015, 12:25 p.m.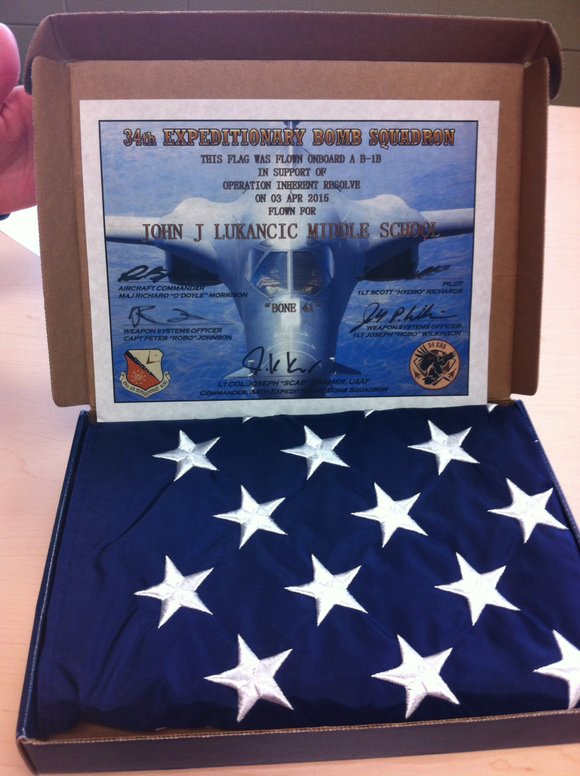 Valley View School District 365U provided this news story:
Lukancic Middle School in Romeoville is in possession of an American flag flown during a B-1B combat mission against ISIS, courtesy of a family living and serving in Qatar.
It all began in September when Lukancic students wrote letters that were included in care packages sent by Operation Support Our Troops to soldiers deployed overseas.
"We did this as a part of our Patriot Day lessons, but many of us have continued to write letters throughout the year," Lukancic social studies Key Leader Patty King said.
"The teachers at Lukancic want to instill in our students a sense of patriotism, appreciation for our heroes in the military and civic awareness/duty of our country and the world."
The Campbell family received one of the letters written by 8th grader Leslie Perez and wrote back to the school. In response, King (who was sending an Easter care package to her son Timothy, who is serving in the U.S. Army) also put a care package together for the Campbells. The Lukancic Drama Club and volleyball team both donated T-shirts that were include in the care package.
Earlier this month, King received a letter and the flag stating: "Thank you so much for the care package you sent. We thought the shirts and goodies were great. It is so nice to hear about schools that still discuss appreciation for the military in the classroom. With that being said, we instantly knew we wanted to have a U.S. flag flown in honor of John J. Lukancic Middle School."
Lukancic officials are in the process of figuring out how and when to formally present and display the flag.