Celebrate Earth Day every day – here's how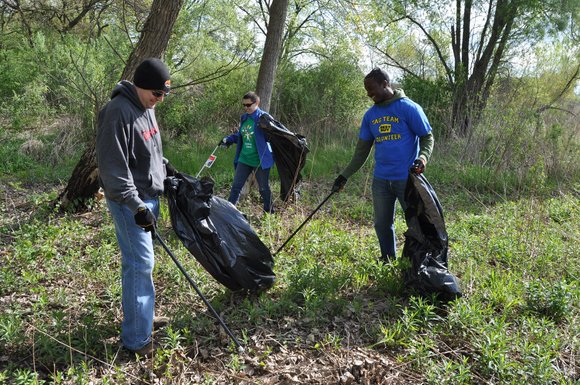 When the Illinois Department of Transportation takes down a road sign, it's not relegated to the garbage heap or sold to a scrap dealer.
It's recycled and made into a new sign in a process that also uses recycled water, IDOT officials said.
It's a good reminder that Earth Day may be celebrated on April 22 every year, but the world is fast becoming a place where Earth Day should be acted on every day, said Randy Blankenhorn, acting Illinois secretary of transportation.
"By using this method for recycling signs, we are significantly reducing waste, saving hundreds of thousands of dollars for Illinois taxpayers every year," said Blankenhorn, noting that the state Highway Sign Shop in Springfield recycles 40,000 to 50,000 signs annually in a process that actually dates back to 2001.
The state saves about 427,500 pounds of aluminum and about $600,000 every year by collecting damaged or faded signs, straightening them through a set of rollers before applying 36,000 pounds of water pressure to strip them of paint and dirt, smoothing the metal surfaces with a sander and then repainting them for new use, he said.
And in the spirit of celebrating Earth Day every day, here are ways Will County residents can do their bit to protect the environment and embrace nature:
Recycle old clothes. Take your old clothing, shoes, linens and other items to the county's annual Textile Recycling Collection Drive, which will be held from 8:30 a.m. to 4:30 p.m. May 11 to 15 at the Will County Building, 302 N. Chicago St., Joliet. The donated items will be recycled so they don't end up taking space in a landfill.
Buy a native plant. Most of the flowers and shrubs sold at nurseries are not native to Illinois so go back to our roots by purchasing something more organic to the area. The "Bringing Nature Home Native Plant Sale" will be held from 9 a.m. to 3 p.m. May 30 at the Will County Forest Preserve District's Sugar Creek Administration Center, 17540 W. Laraway Road, Joliet.
Get the kids outside. "Leave No Child Inside" is a program that encourages parents to get their offspring out in to nature and provides tips on how to motivate them to enjoy the environment. To learn more, go to http://www.reconnectwithnature.org/about-us/highlights/Leave-No-Child-Inside.
Use rain barrels/compost bins. Why pay for water and fertilizer for your garden when you can get the same stuff for free from the sky and ground? Lots of places sell rain barrels and compost bins at cost in order to make it easy for residents to take advantage of Mother Nature. Upcycle Products Inc. is selling them through the Conservation Foundation and Will County at several recycling events or you can opt for home delivery. Go to www.willcountygreen.com to find our when, where and how. Many retail stores, including Home Depot, also sell bins and barrels.
Volunteer at a work day. Will County Forest Preserve District holds work days periodically through the spring, summer and fall in which volunteers pick up trash, pull weeds, plant and do other tasks. The next one is set for 8 a.m. to noon Saturday at Whalon Lake on Royce Road, west of Route 53/Bolingbrook Drive in Naperville. The county also needs people to volunteer to be interpreters, chainsaw operators, stewards, special events staff and campground host. Learn more at www.reconnectwithnature.com.