Girl learns to walk again with help from Silver Cross Therapy dog
4/22/2015, 10:23 p.m.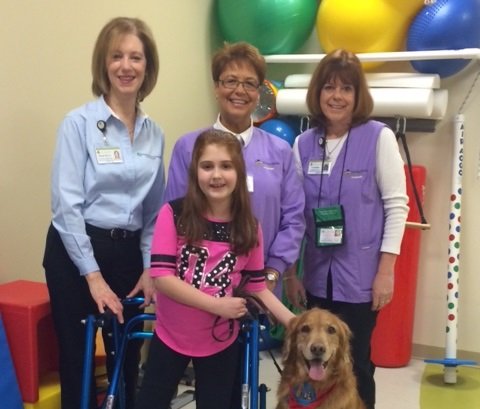 Silver Cross Hospital in New Lenox provided this news release:
When Mokena residents Kurt and Gia Rodrigues learned their 8-year-old daughter, Bella, had gone into cardiac arrest, they were speechless.
Earlier that week, Bella was having cold symptoms, which worsened into a severe H1N1 flu virus, causing her heart and other organs to fail. During the next 26 days, oxygen was delivered to her blood through the use of the life-saving Extracorporeal Membrane Oxygenation (ECMO) machine.

As the ECMO device allowed her to rest while her affected organs healed, she was listed as a Status 1 for a heart transplant. Fortunately, with the use of a stress dose steroid, her heart improved moving her to a Status 7 for a heart transplant. However, the aggressive infection didn't allow her right leg to regain circulation forcing doctors to remove the limb from below the right knee to the foot.
As she faced the challenge of learning to walk again with a prosthetic leg, her progress improved as her spirits were lifted when she began receiving physical therapy using a pet therapy dog at the Rehabilitation Institute of Chicago at Silver Cross Hospital.
"The days I meet with my pet therapy dog, Max, are fun because we play as he helps me to walk," said Bella, who has two dogs of her own at home.
"When I first started treating Bella, she was experiencing a lot of pain," said Patty McQuinn, pediatric physical therapist from the Rehabilitation Institute of Chicago at Silver Cross Hospital.
"Since incorporating Max in our therapy sessions, Bella's focus has moved from her pain to interacting with Max. By throwing a ball to Max and taking him for walks, Bella began to make great gains with her mobility. She has even begun to take steps without her walker. It has been so rewarding to see how working with Max has improved Bella's mood, cooperation and motivation."
"We continue to be encouraged by Bella's progress and by how Patty takes the extra time to develop different approaches to her therapy, like incorporating the pet therapy dog, Max, to ensure she gets the most out of her sessions," Kurt Rodrigues said.
Being a therapy dog has also been a rewarding experience for Max, who is an 11-year-old golden retriever and certified pet therapy dog.
"Even though Max is an older dog, he still gets excited and wiggles his tail as he interacts with patients," said Lori Greene, owner of Max. "And it has been so wonderful to see Bella's face light up when she works with Max. They really have a special bond."
"It has been extremely less stressful for Bella to receive such outstanding care nearby," said Gia Rodrigues. "Instead of spending a couple hours in the car, now she can actually go back to school after her therapy and not be as tired. Plus Bella has excelled in the one-on-one, calming environment that Patty has created during their sessions."
"By coming to Silver Cross, patients have access to specialized care plans similar to those that are offered at RIC's downtown Chicago location," said Valerie Paluszak, Manager of Outpatient Rehabilitation for The Rehabilitation Institute of Chicago at Silver Cross Hospital.
"We are fortunate to have such highly trained and experienced physical, occupational and speech therapists working at Silver Cross, who truly make patients' treatment successful enabling them to thrive, so they can return to their daily routines."