Joliet Job Corps may be tapped for downtown cleanup work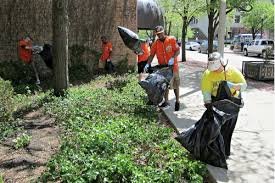 Volunteers will take to the streets Thursday to do a little downtown "spring cleaning," but Joliet officials are considering a more permanent solution to keeping downtown tidy that may involve tapping students studying with the Joliet Job Corps.
Joliet City Manager Jim Hock and Joliet City Center Partnership Executive Director Pam Owens are meeting with administrators from the Joliet-based federal career training program to explore the feasibility of using two students to serve as a full-time downtown cleaning crew this summer.
The city would provide the management oversight through the Public Works Department, the partnership would provide the cleaning supplies, and the students working on facilities maintenance degrees would not only receive first-hand experience in their field but a nice addition to their resumes, Hock and Owens said.
The job would entail more than just cleaning up trash. The city is purchasing pressure washing equipment that is so strong it can remove gum from the sidewalks and algae from between the brick pavers, Hock said.
They would also be charged with doing other beautifying tasks, such painting, repair work, removing old signs and ensuring the city's two parking decks are up to par, Hock said.
Ideally, they'd also serve as downtown "goodwill ambassadors," Owens said, helping people if they require it and putting a positive face on the city.
Hock said the idea of using Job Corps students was in response to Councilman Jim McFarland's campaign to improve downtown Joliet's image by finding someone who could be charged with keeping it cleaning and spotting things that need work. If the program works out this summer, it could be an ongoing arrangement with the Job Corps.
Spring cleaning volunteers to the rescue
Until that deal is finalized, however, downtown will be cleaned up by volunteers who will work from 1 to 4 p.m. Thursday picking up trash and debris that have accumulated over winter, Owens said.
The partnership has done the Spring Cleanup Day annually for several years, she said. What started as an effort enlisting just downtown employees has grown to include more than 40 people who fill up trash bags with anything they find on the sidewalks, in the streets, and hiding in nooks and crannies, she said.
Last year, they filled more than 100 garbage bags, which were collected for disposal by the city of Joliet, Owens said.
"We've really tried hard to grow it," Owens said. "It's been a priority to get public involvement."
One Joliet middle school class spent three hours on a recent weekday cleaning up Van Buren Plaza in advance of the start of the Downtown Joliet Farmers Market, which starts June 19, she said. The not only filled 13 trash bags, they plan to be back in May to plant flowers and do other tasks to make the area look nice, she said.
Anyone who volunteers Thursday is invited to post-work party being held by the partnership at Tin Roof restaurant, Owens said.
For more information, contact Samantha Flores at 815-774-6066 or Samantha.Flores@jolietdowntown.com.
Contact Karen Sorensen at Karen@TheTimesWeekly.com.