NL Girl Scouts donate activity bags to Silver Cross
8/4/2015, 9:49 p.m.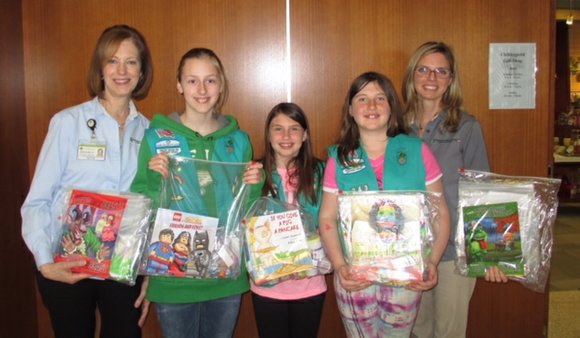 Members from Girl Scouts Troop 243 in New Lenox donated activity bags to the Rehabilitation Institute of Chicago at Silver Cross Hospital (RIC) to be given to pediatric therapy patients.
The Girl Scouts made the bags as part of a community service project to earn the Bronze Award – the highest award that junior Girl Scouts can earn.
"We are grateful to Girl Scouts Troop 243 for their support for our pediatric therapy program," said Larry Johnson, vice president of the Foundation at Silver Cross Hospital.
"The donation will be used to help our young patients in their recovery as they benefit from the cutting-edge therapy offered at the Rehabilitation Institute of Chicago at Silver Cross Hospital."
In order to qualify for the Bronze award, the troop had to create a service project that would benefit people in the community. The 10- and 11-year-old Scouts decided to create activity bags for children who are recovering from an illness. The activity bags include an assortment of items including books, Playdoh, crayons, coloring sets, word search puzzles and Lego games.
"I'm so very proud of the girls for choosing a project that will help brighten the day of other children. They have shown a strong level of commitment to Girl Scouts and to our community here in New Lenox," said Jennifer K. De Young, Girl Scouts leader for Troop 243.
"For the past six years, our troop has participated in cookie sales to support causes that the girls believe in. This year, they thoughtfully designed bags of books and activities with the goal that many children would be excited to share a story or play a game as they healed at Silver Cross. They wanted to help make a trip to the hospital a positive experience."