Valley View unveils new website this weekend
8/10/2015, 1:50 p.m.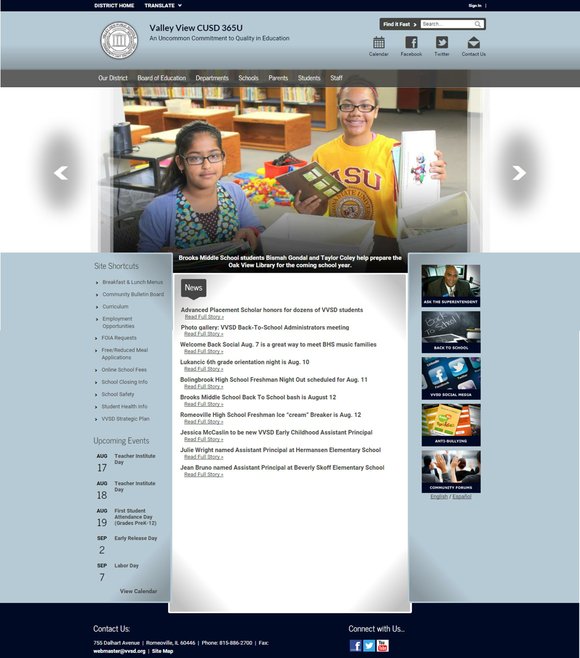 Valley View School District 365U provided this news release:
A new, mobile device friendly Valley View School District 365U website will make its debut the weekend of Aug. 15, prior to the start of classes for the 2015-16 school year.
Utilizing the Schoolwires Centricity2™ platform to give users a responsive web experience from any device, the updates at www.vvsd.org will provide a 21st century communications hub that will engage students, parents, staff, members of the community and users everywhere with continually updated content, blogs, forms and surveys, social media and other Web 2.0 tools.
Foremost among the new website's capabilities is an easy-to-use translater that, with a click of a button, will translate content from English into any one of a dozen foreign languages including Spanish and Polish.
VVSD will use Schoolwires' Responsive Web Design (RWD) services to ensure that vvsd.org can be easily read and navigated on a wide range of devices, from desktops to mobile phones and tablets.
Some highlights of the new website include:
●Readily visible shortcuts to such key areas as employment opportunities, online school fee payment, FOIA requests, and the highly read VVSD Community Bulletin Board
●A news section (updated daily) with all sorts of great VVSD information and mini-feature stories
●A slide show (updated daily) filled with photos of all the cool things happening in VVSD
●A "quick search" capability that will allow users to instantly find website items with ease
●Quick access to School Board meeting videos and minutes
●Easy access to every VVSD department's specific information
The new website will also feature "hot buttons" that have become popular on the current website including Ask The Superintendent, bullying reporting procedures, and the community forum schedule.
These hot buttons will also provide instant access to information on various activities throughout the school year including Valley View Educational Enrichment Foundation events, VVSD surveys including Illinois 5Essentials, the VVSD Community Resource Fair, Summer Learning Experience and a whole lot more.
"We are pleased to add Valley View School District to the Schoolwires family of more than 1,600 districts nationwide," said Christiane Crawford, President and Chief Executive Officer of Schoolwires.
"We look forward to providing excellent support and service as VVSD increases their already excellent engagement with their school community via the Centricity2 web platform."