PRINCE an edgy look at male coming of age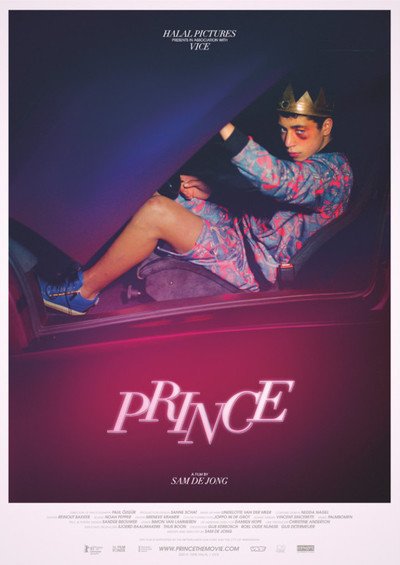 "PRINCE" is the feature debut of acclaimed Dutch music video director Sam de Jong.
In theaters and VOD beginning Friday, August 14th, it is one of the most compelling
films to be released this past weekend. Debuted at the 2015 Berlinale where it
received an honorary mention for the coveted Crystal Bear award for Best First
Feature, it is sure to change the template for future 'coming of age' films.
Produced by 100% Halal films and released by FilmBuff in partnership with VICE
Media, the film is in Dutch with English subtitles, and stars newcomer Ayoub Elasri
as Ayoub.
Filmed against the backdrop of the bleak 'jects that ring the outskirts of
Amsterdam, PRINCE depicts the hardscrabble existence of a mixed bag of North
African, African and local Dutch townies jousting for dominance, romance and bling.
Just on the cusp of manhood, these post-adolescents are obsessed with the universal
passions of all red-blooded Western civilization males--fast cars, designer clothes
and pretty girls. One of the opening scenes shows one of the local toughs hawking
fake designer clothes and knockoff luxury watches and jewelry from the back of a
van.
Although the setting of PRINCE is world's apart from the U.S. cities of New York
and Los Angeles where it is currently premiering, it depicts a social landscape that
is all too familiar; bored, impoverished teens living in a concrete wasteland with
no money, too much time on their hands and the fool's gold lure of the thug life.
Thus, the film's universal message and ultimate appeal.
Starring newcomer Ayoub Elasri, the film follows 17 year old Ayoub, a mixed-racial
youth whose Dutch mother, Saskia (Elsie de Brauw) and comely half-sister Demi
(Olivia Lonsdale) are set virtually adrift by her estranged Moroccan husband, Mo
Bouslimane (played with elegiac pathos by Chaib Massaoudi in a standout
performance), who has turned over his life for the needle. He is apathetic figure,
but there is something almost Christ-like in his suffering. He has chosen to view
life from the sidelines, taking on the burden of suffering for all those around him.
The film begins with the usual mix of pubescent pissing contests and annoying pranks
that are the hallmark of the young male species. The boys are seen standing around
idly in the concrete square at the center of their drab public housing development,
sucking on sunflower seeds, spitting and bragging about seducing girls (which
they've never done) and amassing bling (which none of them can afford). "I need new
shoes," one of them says, to no one in particular. "I'm starting to look like a
bum." The symbolism of that remark will play out later in the film when Ayoub is
given an expensive pair of Zanotti sneakers by Kalpa, the local gangster, as a down
payment for future fealty.
One of the funniest early scenes is one in which Achraf (Achraf Meziani) tries to
show the rest of the gang how to kiss a girl. He goes through all the motions, with