2015 Alfa Romeo 4C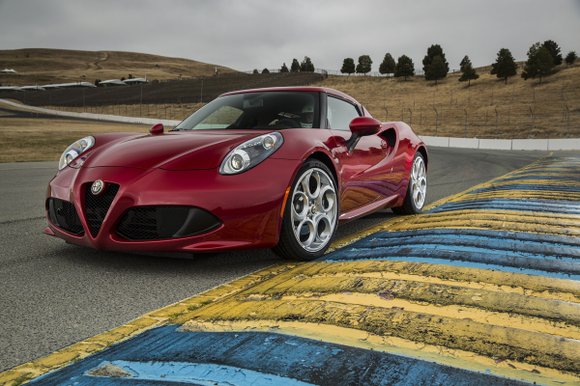 Where to begin, the 2015 Alfa Romeo 4C was just that different.
This Italian made pocket rocket is the first of a slew of Alfa Romeos headed to this market. And if the 4C is any indication, then there is a new player in the luxury performance game and the engineers from Modena, Italy, are to be taken seriously.
Our test car was small, real small. It was 157.5 inches long, 73.5 inches wide and at 46.6 inches, it wasn't four feet tall. That meant we had to slide down into the 4C, almost like sliding into a not so shallow bathtub and then we had to leverage or climb our way out of the car. This was a task. But it was worth it. The Alfa Romeo 4C was a palpitating piece of machinery.
The car was a monocoque made of carbon fiber, a material that delivered stiffness and strength. Everything about the 4C was about saving weight. Even the windshield and side window glass were 10 percent thinner for a weight savings of up to 15 percent.
There was no park gear, just neutral, drive, reverse and manual to bring the paddle shifters into play. But there was a parking brake. These "gears" were buttons mounted in a diamond on the center console.
The two seats had carbon fiber and fiberglass reinforced composite frames. They had very nice cloth seat cushions and seat backs. Of course, the car had a manual tilt telescoping steering wheel.
There was no power steering either and we realized that as soon as we tried to turn the flat bottomed steering wheel while the 4C was standing still. In other words, Alfa Romeo dumped the weight of a hydraulic or an electric power steering system.
The audio system was, eh, rudimentary too. There was no satellite radio, no CD player, and no USB jack. But there was an auxiliary jack and a slot for an SD card. However, there was no navigation system either.
And the sheet metal, well, it was not exactly metal. Alfa Romeo said attached to the 4C's monocoque were front and rear cell structures, roof reinforcements and an engine-mounting frame made from lightweight aluminum.
The bodywork was SMC (sheet molding compound), a composite that was 20 percent lighter and more rigid than steel. It was used on the 4C to create the swerves and curves that made the car even more distinctive than just its diminutive size. The fascia and rear spoiler were made of injected polyurethane.
What appeared to be the CPU or audio system controller popped out and it looked more like a small point and shoot camera. This was different kind of car. If you care about creature comforts then the Alfa Romeo 4C is not for you, trust us.
But if you care about fun, the 4C has it to spare. As with all fun cars, the levity starts with the engine. In this case it was a mid-mounted 1.7 liter direct injected turbocharged four cylinder aluminum engine that made 237 horsepower and 258 pound-feet of torque.