49TH FESTIVAL FEATURES GALAXY OF INTERNATIONAL STARS
Mostly Mozart Festival through August 22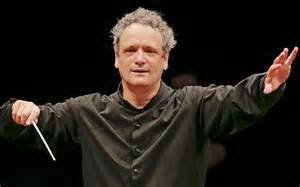 NEW YORK---Lincoln Center's Mostly Mozart 49th Festival concludes with a Closing
Night performance Friday and Saturday, August 21 and 22 at 7:30pm at Avery Fisher
Hall. Renee' and Robert Belfer Music Director Louis Langree' leads the Mostly Mozart
Festival Orchestra in Haydn's Creation with British soprano Sarah Tynan headling an
all-star vocal cast, including Metropolitan Opera favorite, Canadian bass-baritone
John Relyea, British tenor Andrew Staples and the Concert Chorale of New York,
directed by James Bagwell.
Mostly Mozart 49th Festival at Lincoln Center
Renee' and Robert Belfer Music Director Louis Langree'
Soprano Sarah Tynan sings Haydn' triumphant oratorio "Creation"
Opening-Night Program of the Mostly Mozart Festival featured Grammy-winning Sony
Classic exclusive artist Emanuel Ax as soloist for Mozart's mercurial Piano
Concerto No. 14 in E-flar major.
Emanuel Ax is a master at articulating smooth, arcing musical lines in his solos.
This fact was supremely evident in his playing of the Mozart Piano Concerto. From
the opening bars, Ax set out the thematic material with clarity. Although the piece
moved with restless energy from one thematic idea to the next, Ax never rushed
through. Opting instead to play each phrase with distinctive character, allowing the
ideas to unfold against the restless backdrop of Langree's precise handling of the
orchestral ensemble.
The second movement, the slow Andantino was particularly revealing of Ax's
luminescent playing style. Each note rang with its own expressive clarity as the
beautiful central theme unfolded with orchestra blending in with a luscious voice in
response. The effect became even more pronounced in its understatement, which left
a sense of longing at its conclusion.

Emanuel Ax was soloist in Mozart's florid Piano Concerto No. 14 in E-flat major
The combined forces of the New York debut of German conductor Cornelius Meister and
the fieryArgentine cellist Sol Gabetta as soloist in Haydn's Cello Concerto in C
major, made this a particularly memorable night for followers of the Mostly Mozart
festival.
The hefty program of Mozart's delightfully breezy Overture to the opera Le Nozze di
Figaro (the Marriage of Figaro), Haydn's Cello Concerto and the finale of
Beethoven's forceful Symphony No. 4 in B-flat major, made for a music connoisseur's
delight.
Gabetta quickly proved why her highly acclaimed debut with the Berlin Philharmonic
at last year's Baden-Baden Easter Festival was one of the landmark events of the
international music year. Gabetta soared in the sophisticated melodies of the
opening Moderato with its various themes reflected between orchestra and soloist.
Gabetta was especially expressive in the moving Adagio with its melancholy theme.
Her fierce attack in the Finale: Allegro molto, playing Haydn's cadenza's ended the
piece with a dramatic flourish.
Conductor Meister proved that he was no novice when it comes to navigating
contrasting shifts between delicate pianissimo and bombastic forte in the Beethoven.
He especially brought out the orchestra's 'inner voices' in the woodwinds and
rallied a stirring advance from the brass. It was a thrilling performance.