Chorizo Grinders with Spicy Salsa
8/28/2015, 1:10 a.m.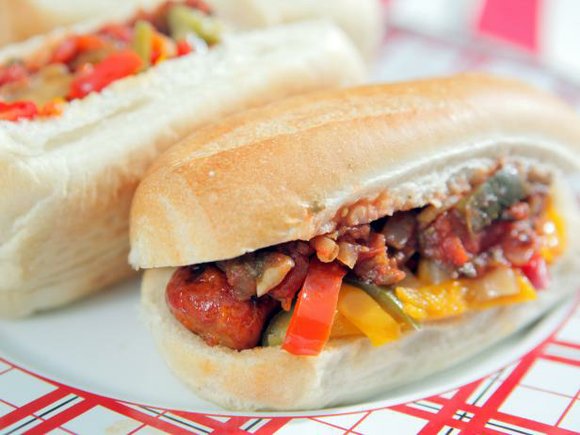 SERVINGS: 4
Ingredients
4 fresh chorizo sausages (about 1 pound)
1 tablespoon extra-virgin olive oil
One 16-ounce bag frozen pepper stir-fry, thawed
One 16-ounce jar salsa
2 chipotles in adobo sauce, chopped
1 tablespoon adobo sauce, from the jar of chipotle peppers
1 tablespoon lime juice
4 hero rolls
2 tablespoons chopped fresh cilantro, optional
Directions
Preheat a grill to medium heat.
Place the sausages on the grill. Use tongs to turn the links often, every 4 to 6 minutes. Cook until golden brown, 20 to 25 minutes. Make sure to close the grill lid between turnings.
Place a large cast-iron skillet on the side burner of the grill over medium-high heat. (If your grill does not have a side burner, then place a cast-iron skillet onto the grill when you go to preheat the grill.) Add the olive oil and pepper stir-fry and cook until the peppers are soft, about 5 minutes.
Put the salsa into a bowl. Stir in the chipotles, adobo sauce and lime juice.
Put a chorizo onto each roll and divide the pepper mixture evenly among the rolls. Top with the spicy salsa, garnish with cilantro, if using, and serve.