Video celebrating JCHS history to be debuted Sept. 23
8/28/2015, 9:59 a.m.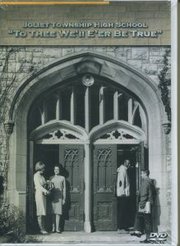 Joliet Township High School District 204 provided this news release:
The Joliet Central High School Archives Committee and Joliet Area Historical Museum will co-host a premier of the newly released video "To Thee We'll E'er Be True" from 5 to 7 p.m. Sept. 23 at the Joliet Area Historical Museum, 204 Ottawa St., Joliet.

The event is free and open to the public and includes a reception with light refreshments and a cash bar.
In addition, the museum will be open for touring and historical artifacts from Joliet Central High School will be on display. The video viewing will begin promptly at 5:30 p.m.
Joliet's unique educational heritage can be traced directly to the castle like limestone structure at 201 E. Jefferson St. It was the people of the Joliet area, who in 1901, had the vision for the extraordinary school known as Joliet Township High School.
Now, the history of JTHS is available on the first-ever DVD entitled "Joliet Township High School "To Thee We'll E'er Be True." The JTHS Archives, through their hard work, dedication, and research, have produced this DVD filled with more than a century of JT memories and information.
"In the video you will find out how the 'Steelman' got his name and how JT even had the opportunity to receive such a unique mascot in the first place," Archives Chairwoman Tana Gray said.
"It is a beautiful tribute to the school and includes the story behind many aspects such as who wrote the JTHS Loyalty, the first JT band director and how Joliet Central High School was added to the U.S. Register of Historic Places."
The video also depicts what the building and the campus look like today and provides in-depth information on its storied history and tradition.
"The video should help all Steelmen recall their high school days on the great campus of JT and that Steelmen will always be part of the awesome tradition that is Joliet Township High School," said JTHS Alumni Coordinator Lynne Lichtenauer.
RSVP to attend the video premier by send an email to Joan Lesnik at atjml1290@aol.com by Sept. 16.
If you cannot attend the premier but would like to purchase a video, send a check payable for $17 (includes shipping) to Joan Lesnik, Archives Secretary, and mail to: 13455 Old Orchard Lane W., Lockport, IL 60441.
In addition, copies of the DVD are available for $15 at the museum and the JTHS Alumni Office at 300 Caterpillar Drive in Joliet.
Online orders can be placed at http://bit.ly/1JakVtA.