A Christmas Carol in 38th Year at Chicago's Goodman Theatre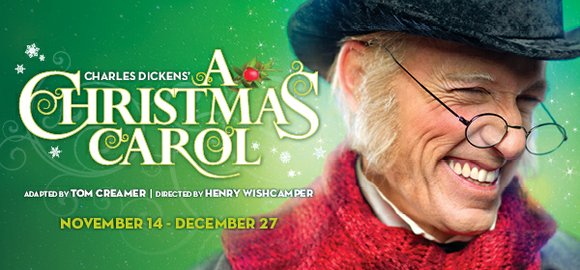 Goodman Theatre fills with cheerful holiday humbuggery as Charles Dickens' enduring classic A Christmas Carol returns for its 38th year, directed for the third time by Henry Wishcamper with new and favorite faces, stage magic and scenic delights. For the 8th consecutive year, acclaimed Chicago actor Larry Yando delivers an "uncannily brilliant performance" (Chicago Sun-Times) as Ebenezer Scrooge—"from the bitterly unhappy codger to the transformed man, Yando plays all the emotional notes to perfection, with finely honed comic bits spicing up the proceedings" (Chicago Tribune). As Tiny Tim, eight-year-old Nathaniel Buescher returns for his second year. The creative team includes Todd Rosenthal (set), Heidi Sue McMath (costumes), Andrew Hansen (composer), Richard Woodbury (sound), Keith Parham (Lighting), Malcolm Ruhl (music director) and Tommy Rapley (choreography).
A Christmas Carol by Charles Dickens, Adapted by Tom Creamer, runs November 14 – December 27 (Opening Night is November 22) in the Goodman's Albert Theatre. Tickets ($25 - $102; subject to change) are available online at GoodmanTheatre.org/Joy, by phone at 312.443.3800 or at the box office (170 North Dearborn). Fifth Third Bank is the Major Corporate Sponsor, PepsiCo is the Official Beverage Sponsor, Aon and KPMG LLP are the Corporate Sponsor Partners for A Christmas Carol. Past production photos can be found in the Goodman's Press Room.
Immediately following each performance, A Christmas Carol cast members appear in the lobby to collect monetary donations for Season of Concern, which provides care for those in the theater community battling catastrophic illness. Through the generosity of its audiences, the Goodman is proud to have raised more than $260,000 since 2000 to support this not-for-profit organization's mission.
More than 1.2 million theatergoers have attended Dickens' iconic tale of greedy British businessman Ebenezer Scrooge, whose sizable bank account is only matched by his hatred of the holidays. One Christmas Eve, Scrooge is visited by four ghosts who take him on a spectacular adventure through his past, present and future, helping him rediscover the joys of life, love and friendship. The Goodman established A Christmas Carol as an annual offering in the 1977/1978 Season—a time when only a handful of U.S. theaters mounted the production.