Appomattox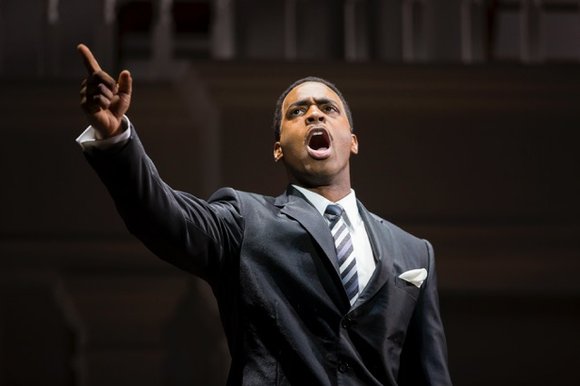 WASHINGTON, DC: Washington National Opera at The Kennedy Center ended its run of the world premiere of the Philip Glass-Christopher Hampton opera Appomattox (revised from the 2007 San Francisco Opera original) on the anniversary of the assassination of President John F. Kennedy. The performances marked 150 years since the end of the Civil War and 50 years since President Lyndon B. Johnson passed the Voting Rights Act. Representative John Lewis, veteran and venerable Civil Rights activist, who stood with Martin Luther King and who is one of the characters in Act II, was the honored guest.
In this version, the Civil War material–from the fall of Richmond through Lee's surrender at Appomattox–was condensed into a 90-minute Act I and material about Voting Rights issues–including the March from Selma to Montgomery, Alabama–became the new Act II. Given the pushback against President Johnson's seminal legislation–the Supreme Court's striking down parts of the 1965 Act in 2012; Ferguson, Mo; the murder of Laquan McDonald and Black Lives Matter–another revision may soon be warranted. Revisions are not so unusual in opera: Puccini revised Madama Butterfly five times.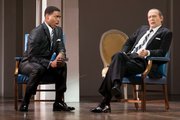 The opera opens with black soldiers in Yankee blue uniforms spread across the width of the stage singingTenting on the Old Campground. (There were between 200,000 and 300,000 soldiers of color fighting for the North and, towards the end of the war, an almost equal number of slaves fighting for the South.) That scene telescopes Tazewell Thompson's respectful, static staging especially of Act I and much of the rest of the opera. It also showcases the excellence WNO chorus. Tenting is followed by Mrs. Grant, Mrs. Custis Lee, Mary Todd Lincoln and her companion, Elizabeth Keckley singing in turn and then together that, "War is always sorrowful." The women are on opposite sides of Donald Eastman's simple, white, two-tiered set, which suggests the veranda of a house. Later on, President and Mrs. Lincoln and Frederick Douglass and his companion, Mrs. Dorsey, the first two blacks invited to the White House, meet on the upper level and amid pleasantries, discuss voting rights. Stage bifurcation carries through Act I with Gen. Lee and his people on one side of the stage and Gen. Grant and his on the other.
It indicates something about parallel time and parallel space that continues to the present day. In the "Lost Cause" myth that has only recently begun to be reinspected, Grant was a butcher and Lee, an honorable gentleman, who could not accept the offer of commanding the US Army because he was a Virginian and couldn't fight his family and friends. Though the truth was not so simple–Lee was pro-Slavery–the men respected one another and hoped that Lee's surrender would usher in a humane, new beginning. Sadly, time has shown them to have been thinking magically. Some posit that the assassinations of both Presidents Lincoln and Kennedy were perpetrated by those who opposed equality.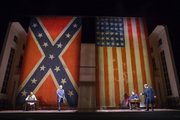 There are stylistic parallels between the two acts starting with double casting–Abraham Lincoln/Lyndon B. Johnson (Tom Fox), Frederick Douglass/Martin Luther King, Jr. (Soloman Howard), Robert E. Lee/Edgar Ray Killen (David Pittsinger), Ulysses S. Grant/Nicholas Katzenbach (Richard Paul Fink), Julia Grant/Viola Liuzzo (Melody Moore), Wilmer McLean/J. Edgar Hoover (Robert Brubaker), T. Morris Chester/John Lewis(Frederick Ballentine), Mary Todd Lincoln/Lady Bird Johnson (Anne Carolyn Bird), Elizabeth Keckly/Coretta Scott King (Chrystal E. Williams), Mary Custis Lee/Secretary (Kerriann Otano), Gen. Howell Cobb/James Fowler (Timothy J Bruno), Edward Alexander/Cartha DeLosch (Robert Baker), John Aaron Rawlins/George Wallace (Aleksey Bogdanov), Mrs. Dorsey/Amelia Boynton (Leah Hawkins), and Col. Ely S. Parker (Dane Suarez).