Wine of the Week - Taittinger Comtes de Champagne is a perfect gift for the Holidays
Comtes de Champagne 2006 is the first vintage since the Taittinger family regained control of the legendary Champagne house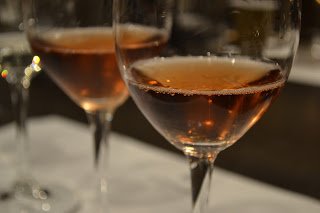 Taittinger Comtes de Champagne Blanc de Blanc-$134
Taittinger Comtes de Champagne Rose $239
The newly released Taittinger Comtes de Champagne makes the perfect Holiday Gift and is a festive way to bring in the New Year. Recently, Global Ambassador Vitalie Taittinger flew to the United States to personally oversee the American Premiere of Taittinger Comtes de Champagne 2006. "With a smile on my face and a flutter in my heart, I am pleased to bring you something truly special," Vitalie said proudly to the expectant crowd.
"Our Comtes de Champagne 2006 is the first vintage since my family regained control of the Champagne House.
THE CHAMPAGNE OF JAMES BOND ARRIVES IN THE US
Taittinger Comtes de Champagne has become a virtual fixture of global pop culture, appearing often in movies. You're probably see a glass or two hoisted in the new James Bond movie as it is often referred to as "the Champagne of James Bond."
This new release is Taittinger's 37th vintage and is a shining example of 100% Chardonnay Blanc de Blanc which altered the course of the wine industry and spawned a completely new category of 100% Chardonnay Champagne.
"We constantly push ourselves to become the best," Vitalie said. "Its important to remember that excellence is a process of constant evolution and innovation; from looking into new types of glass to recyclable paper and exploring new methods of harvesting, corking and bottling."
Comtes de Champagne Brut Blanc de Blanc is characterized by its creamy mouth feel, aromas of white flowers, bright flavors of lemon zest, white peaches and toasted brioche and its complex long, crisp finish. It is delicious with shellfish, sushi and white game meats such as pheasant or guinea hen or the Holiday turkey. Drinking it alone as an aperitif or relaxing after dinner can be equally as satisfying.
COMTES DE CHAMPAGNE ROSE`: UNRIVALED QUAITY, UNPARALLELED TASTE
Comtes de Champagne is the ultimate expression of the Taittinger style. Composed entirely of Chardonnay grapes grown in the top vineyards of the prestigious Cotes des Blancs, it uses only the juice of the first press, a portion of which is aged in new oak barrels. The wine is aged for 10 years on the expired yeast in 13th century chalk cellars that were once the property of Saint Nicaise abbey.
"This process gives the Champagne its richness, structure and complex flavor," said French Portfolio Brand Director for Kobrand Bernie Sun. "The longer you taste Comtes de Champagne, the more the different flavors begin to unfold."
MORE at thetimesweekly.com