Year-end tax tips for individuals
12/2/2015, 9:25 a.m.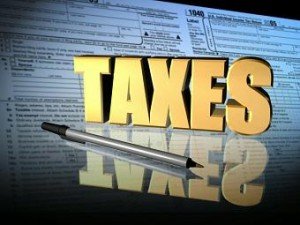 Year's end means more than a new calendar. It's your last chance to take advantage of many tax breaks.
As your time runs out, the National Society of Accountants (NSA) also offers this list of tax changes and strategies, courtesy of CCH (a Wolters Kluwer business).
Tax Planning Tips
Individual income tax rates of 10, 15, 25, 28, 33, 35 and 39.6 percent remain in place for filing next April. (The more you made, the greater your percentage.) The standard deduction for 2016 income will stay the same: $6,300 if you file your taxes using the status single or married filing separately. Married joint filers still receive a $12,600 deduction; head of household filers' deduction jumps $50, to $9,300.
Year-end tax-saving tactics include: spread recognition of your income between years by postponing year-end bonuses and maximizing both deductible retirement contributions and allowable retirement distributions for this calendar year, coordinating capital losses against the sale of appreciated assets, postponing redemption of U.S. Savings Bonds, and delaying your year-end billings and collections.
You may also want to defer corporate liquidation distributions (full cash-value payment for all a company's stock you hold) until 2016, pay your last state estimated tax installment in 2015 and pre-pay real estate taxes or mortgage interest.
Life changes. Did you get married or divorced? Have a child? Buy a home? Change jobs or retire? A change in employment, for example, may bring severance pay, sign-on bonuses, stock options, moving expenses and COBRA health benefits, among other changes that affect your taxes.
Additionally, try to predict any life events in 2016 that might trigger significant income or losses, as well as a change in your filing status.
Retirement savings. You can contribute up to $5,500 to an individual retirement account or Roth IRA for 2015 and, if you're 50 or older, $1,000 more in catch-up contributions. You also have until April 15, 2015, to make an IRA contribution for 2015. One tax move in this area: Delay until 2016 converting your traditional IRA to a Roth IRA, which incurs taxes.
Giving. You can still make tax-free gifts of $14,000 per recipient (a total of $28,000 in the case of married couples).
Tax-free distributions, up to a maximum of $100,000 per taxpayer each year from IRAs to public charities, have been allowed as an alternative to reporting the income and taking an itemized deduction. You must be 70½ or older to do this.
High earners
If your income is six figures or more, you should anticipate possible liability for the 3.8 percent net investment income (NII) tax calculated on net investment income in excess of your modified adjusted gross income (MAGI). Threshold MAGIs for the NII tax are $250,000 in the case of joint returns or a surviving spouse, $125,000 for a married taxpayer filing a separate return, and $200,000 in any other case.
Keeping income below the thresholds is worth exploring, as is spreading income out over a number of years or offsetting the income with both above-the-line and itemized deductions. Of course, planning for the NII tax requires a very personalized strategy.