Junior High girls basketball team wins regional
12/9/2015, 7:58 p.m.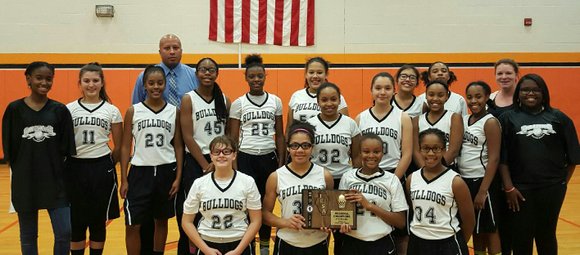 Brooks Middle School's girls basketball program will have an opportunity to avenge last year's heartbreaking one point sectional loss to Flinn Middle School of Rockford next week after trimming Jane Addams Middle School 48-38 Friday in the 8th grade IESA Sandwich regional championship game.
Friday's contest was a battle all the way with the teams tied at 11 after a quarter. Brooks led 22-16 at halftime and 35-31 after three quarters before pulling away.
Jayden Marable led Brooks with 25 points, while Makayla Conway topped the Mustangs with 18 points. Other Bulldogs scorers include Taylor Coley (11), Danyel Middleton (7), Miranda Elder (5) and Makayla Ashford (2).
Other Brooks team members are 8th graders Alesia Boyd, Amaris Baker, Evelyn Cortez, and Ana Boyd; 7th graders Faith Domercant, Makayla Ashford, Joleina Singh and Liliana Santoyo; and 6th graders Ariana Basttle and Kendall Winston. The Bulldogs are coached by Alan Hampton.