Goodman "A Christmas Carol" as vital as ever at 37
12/14/2015, 11:11 p.m.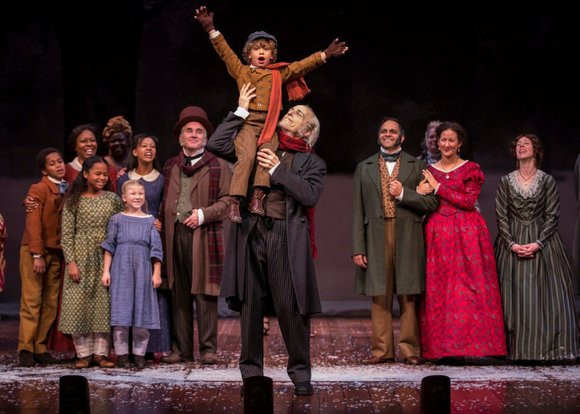 Goodman Theatre's "A Christmas Carol" is making its 38th production appearance, but you wouldn't know it from the heart-tugging performances and genuine holiday spirit that shines right through Tiny Tim's gushing "God Bless us, everyone!"
There's almost no way to walk out this production without getting the holiday spirit. There are plenty of veteran cast members on hand, delivering beautifully crafted performances, and a smattering of newcomers in their shining debut, giving the show an added luster.
Larry Yando, the hardest working man in Chicago show business, is back for his eighth turn as the irascible Scrooge and his metamorphosis from harrumphing curmudgeon to wide-eyed optimist. Ron E. Rains is back for his ninth season as the put-upon Bob Cratchit. Kristina Valada-Viars is the lovely, guileless Belle who stretches her kind heart to the breaking point to rescue Scrooge from his solitary abyss. Paige Collins is back for her emotionally charged performance as Martha Cratchit. Her dressing down of Scrooge's character at the Christmas dinner toast is one of the dramatic high points of the play. Nathaniel Buescher is also back for a second turn as Tiny Tim. His enthusiasm spills right over into the audience at the finale. Bret Toumi and Kim Schultz are also back as the delightful Mr. and Mrs. Fezziwig. There are a number of returning performers in the cast, giving the production a nice, homey, lived-in feel.
The special effects, particularly the early appearance of Scrooge's deceased partner Jacob Marley (Joe Foust) and a glitzy entrance for Christmas Past (Patrick Andrews). Lisa Gaye Dixon as the Ghost of Christmas Present brings a new vitality to the role in her debut performance. There are fine performances from the veteran cast members too. The dance sequence at Fezziwig's warehouse is introduced with gusto by the onstage musician's led by Malcolm Ruhl on accordian in his 11th appearance.
The show just glistens with heartfelt emotion. In this season, where the shadow of terrorist violence hangs like a pallor over every holiday gathering and in an entertainment landscape where a film on street gang violence qualifies as a satirical musical, Goodman's " A Christmas Carol" is a welcome holiday tonic to be enjoyed by all. Now through December 27. Visit www,goodmantheatre.org for ticket information.